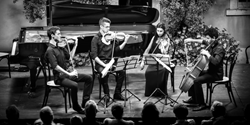 LOS ANGELES (PRWEB) October 28, 2019
The Polyphony Quartet is part of the Polyphony Foundation, a non-profit organization whose work fosters shared society in Israel by bringing together Arab and Jewish through classical music, cultural exchange, and dialogue.
The Polyphony Quartet is comprised of violinists Yamen Saadi and Edi Kotlyar, violist Yoav Yatzkin, and cellist Mahdi Saadi.
The musicians are participants in Polyphony's programs, including the Scholar-in-Residence Seminar - a bi-annual, five-day immersion that combines orchestral training with an academic curriculum focused on the social context of music and intercultural dialogue. The musicians have also performed in Polyphony's Galilee Chamber Orchestra - Israel's first professional orchestra composed of Arab and Jewish artists.
Under the guidance of Polyphony's Co-Founder and Director, Nabeel Abboud Ashkar, the Quartet also gives performances throughout Israel, Europe, and in the United States. Last year, the Quartet traveled to Lerici, Italy, where they performed in the annual Suoni dal Golfo Music & Poetry Festival.
The concert program will include:

BELA BARTOK: three selections from 44 Duos for 2 violins
HENRI WIENIAWSKI: Etudes-Caprice, Op. 18, No. 1 and No. 4
W.A. MOZART: Duet for Violin and Viola in G Major, I. Allegro
EUGENE YSAYE: Sonata for Violin Solo No. 3 in d minor
FRANZ SCHUBERT: String Quartet No. 13 in a minor, op. 29 "Rosamunde"
Arrangements of Arab and Jewish folk tunes
Following the music, Nabeel Abboud Ashkar and the musicians will answer questions from the audience.
Polyphony receives support from the Israeli Ministry of Education, international private foundations, and donors from the United States each year.
To register for your free ticket, visit: https://www.eventbrite.com/e/bridging-the-divide-polyphony-quartet-in-concert-conversation-tickets-66351698717
To learn more about the Polyphony Foundation, visit https://www.polyphonyfoundation.org. The Foundation can be reached via email at Inquiry@PolyphonyFoundation.org.
To learn more about the event, please contact Claire Bernson of the Pico Union Project at events@picounionproject.org