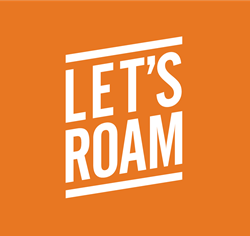 "We're on a mission to help people explore the world and connect with others through fun, interactive experiences. Let's Roam is a great way to experience a city with family and friends. I'm honored to lead a team that makes a positive impact in so many people's daily lives." -Charlie Harding, Let
DENVER (PRWEB) December 07, 2018
Are your readers looking for an innovative, last minute and/or experiential gift this season? Let's Roam, a company that takes the fun and experience of scavenger hunts to a new level, offers the perfect gift for kids, families, explorers, adventurers, health nuts, minimalists (and moms against clutter), gamers and the person on the gift list that is notoriously hard to buy for. Rather than give the same old gift this season or something that will inevitably collect dust on a shelf or end up in a landfill, give someone the gift of adventure, investigation, experience and a little friendly competition.  
A Denver-based company, Let's Roam focuses on creating connection through exploration, offering new and innovative ways for people to experience a city and connect with others, local history, the outdoors and the environment around them. The premise is simple, and it's the perfect anytime activity that can be done in more than 350 cities across the globe. All players have to do is download the Let's Roam app to their phones, select their hunt, identify their interactive role, such as Photographer, Architect, Brainiac or Youngster, and start playing. Over the course of about two hours—although all scavenger hunts are app-led and can be taken at any pace—players travel throughout a city, from landmark to landmark, getting clues, answering riddles and trivia questions, taking snapshots to complete photo challenges and earning extra points for finding hidden treasures. And, if a player gets stumped, not to worry. Let's Roam will help guide the team to the next location. With no reservations, tour guide or size-limit requirements, these city scavenger hunts can be done anywhere, any time and are perfect for a couple who wants to get out of a date night rut or a family of four, as well as big parties, corporate team building events, fundraisers and more. With Let's Roam's #1 app-led city scavenger hunt, adventurers of all ages can explore like never before.
"We're on a mission to help people explore the world and connect with others through fun, interactive experiences. Let's Roam is a great way to experience a city with family and friends. I'm honored to lead a team that makes a positive impact in so many people's daily lives."
-Charlie Harding, Let's Roam founder and CEO
Give the Gift of Experience, Adventure and Fun This Year
Let's Roam gets kids out of the virtual world and into the real one, learning about art, landmarks and local history, exploring a city in a way that is engaging and fun. Kids under five can play, too, adopting the Youngster role. And, for a little more than the cost of a movie ticket, it's a great family activity that's experiential and engaging.
Great option for the traveler, explorer, adventurer on a gift list. With over 350 cities to choose from, Let's Roam offers players a new and innovative way to experience a city—even their own city!
It's the perfect gift for both the person who has everything as well as the person who is all about doing things rather than collecting them. This totally experiential gift appeals to minimalists, the slow living community, moms who don't want any more stuff in their homes and outdoor/adventure/fitness/travel enthusiasts alike.
Since it's all online, it's easy to purchase and give and makes a great last minute gift that can be used anywhere, any time.
With a lot of holiday travel, out-of-town-guests, kids home on winter break and New Year's parties packing calendars this time of year, Let's Roam hunts are a fun way to entertain guests, get kids out of the house, explore a new city and host an engaging, experiential party that guests won't soon forget. Let's Roam also offers special packages for birthday, bachelor and bachelorette parties and team building events, and can customize hunts for larger groups.  
Quick History
Around for just two years and the brainchild of Charlie Harding and his brother Mike Harding, who couldn't hear for the first few years of his life, the idea for Let's Roam city-based scavenger hunts was created in Charlie's 10-year-old imagination. Two decades later, Charlie and Mike have turned a child's vision into the #1 app-led city scavenger hunt, guiding people all over the world into a new experience of exploration and connection.
Founders Charlie and Mike are passionate about making changes in the world through connecting everyone in it. Recognizing, however, that change starts at home, the brothers are active in their community, and Let's Roam gives back by working with nonprofits and charities, supporting important causes in the Denver area. Giving a Let's Roam city scavenger hunt this year gives more than an experience to a friend or loved one. It can also help make a positive impact on the life of someone else in the world.
Experts in creating epic adventures, Let's Roam already has over 1,000 five star reviews on Facebook, Google, and the app store. And, players are loving their experience.
"Fun time. Got to learn a lot of great things about Portland and make new friends."
-Paul Margolies
"This was a Christmas gift for my sister and nephew. We thoroughly enjoyed our experience and loved learning about the history of our city. I plan on doing this in another city when I'm on vacation. Job well done!"
-Denise Arbogast
"Very fun way to explore my home town! I've lived here 20 years and learned so much. Great for sight seeing with visitors."
-Tori Swanson
"This was an amazing adventure! I can't wait to do it with the kids."
-Michael Bailey
To learn more about Let's Roam, contact Nikki Croes at 917-838-5092 or email nikki.croes(at)letsroam.com.
Letsroam.com
Let's Roam HQ, 1801 California St, Suite 2400, Denver, CO