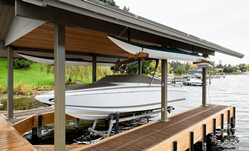 JUPITER, Fla. (PRWEB) March 19, 2021
Scheduled to broadcast 2Q/2021, the award-winning series, Advancements with Ted Danson, will focus on how innovative manufacturing practices are being used to create long-lasting polymer coatings.
This segment of Advancements will explore how rust and corrosion can lead to a wide range of issues for a number of industries, including outages, downtime, and failures for transportation, utilities, oil and gas, manufacturing, and the government. With a look at Ovante, viewers will hear how its UV and abrasion resistant Storm Greeter polymer coating is helping to extend the life of corrosion prone components.
"Due to the ability to resist corrosion; both from environmental factors (air and moisture) and from dissimilar metal contact, Storm Greeter's polymer coating isolates the structural component from the effects of corrosive influences, while preserving its structural integrity for years to come," said Jon H. Brasher, President and CTO of Ovante. "Having been proven by the Electric Power Research Institute to last at least 50 years in the harshest environments, it's time to let the world know there is a better way to protect infrastructure."
Audiences will see how the innovative non-porous polymer can be used on a number of materials to coat construction and infrastructure components. From homes and piers to sea walls, decks, and more – the show will explore how Storm Greeter can protect against the harshest conditions (with salt and sunlight having no effect).
"Storm Greeter can be applied as a liquid in the field or in the factory and it can be cured into different shapes, such as caps to protect wooden utility poles and pier tops," said Richard Lubin, senior producer for Advancements. "In addition, it contains no VOCs, which is important to protecting our health and the environment."
About Ovante:
Ovante's coatings are ideally suited for the construction, utility and energy, transportation, defense, agriculture, and marine industries. The Storm Greeter UV, corrosion, chemical and abrasion resistance means that it will still be protecting assets while paint is being repaired or replaced. For more information, visit: http://www.ovantellc.com.
About Advancements and DMG Productions:
The Advancements series is an information-based educational show targeting recent advances across a number of industries and economies. Featuring state-of-the-art solutions and important issues facing today's consumers and business professionals, Advancements focuses on cutting-edge developments, and brings this information to the public with the vision to enlighten about how technology and innovation continue to transform our world.
Backed by experts in various fields, DMG Productions is dedicated to education and advancement, and to consistently producing commercial-free, educational programming on which both viewers and networks depend.
For more information, please visit http://www.AdvancementsTV.com or call Richard Lubin at 866-496-4065.