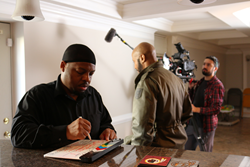 When network soap operas started leaving New York, I knew it was a beginning, not an end. You can't keep the truth down, and artists are powerful messengers for that truth.
Washington, DC (PRWEB) February 23, 2017
In a new interview new interview with Benjamin Bryant on the Kinja media platform, the creator, writer, and star of the Daytime Emmy-nominated web series ANACOSTIA discusses the state of the show in its fifth season, the evolution of the soap opera industry on the east coast, and speaks frankly about the show's latest, potentially controversial, storylines.
Highlights from the interview are below. Read the full feature here.
--On the current state of the popular web series:
"Anacostia is the best it's ever been. No lie, no exaggeration. I've been proud of the work we've done every season, especially with the constraints and challenges we've had, but if you're doing it right, you're always getting better, and that's where we are with Season 5. The stories are bolder and more relevant this season—we're touching on gentrification here in DC and tackling male rape full-on with a storyline that is just infused with so much painful honesty, while still bringing the soapy drama our fans expect from us."
--On working with popular As the World Turns stars Martha Byrne and Elizabeth Hubbard:
"We're heading into our second season with Liz and our third with Martha and they are just part of the family now! The truth is those ladies are true soap royalty, veterans of a genre who've seen so much over the years, and they bring that experience with them to the ANACOSTIA set. We've so much respect for them, but the beautiful thing is that they don't see themselves as royalty, they see themselves as artists, with a commitment to authenticity in storytelling and the survival of our shared soap opera medium. That makes all the difference."
--On the opportunity provided the emerging digital drama field when network television soap opera disappeared from the East Coast:
"When network soap operas started leaving New York, I knew it was a beginning, not an end. You can't keep the truth down, and artists are powerful messengers for that truth. What network soaps leaving the east coast did was create a vacuum, an empty space for people with new visions and new approaches to fill in. And we were up for the challenge, even all the way down here in D.C.!"
--On shooting in Washington DC vs. New York City:
"I won't lie, shooting in DC has posed challenges that other web soaps haven't necessarily faced: the established soap talent (not just actors, but producers, writers, and crew, too), the experience, and the money is all heavily concentrated on around NY and LA. That's as true now as it was when we first started. But I never considered taking the show there. The people and streets of Anacostia and the surrounding D.C. area have a vibe that's too real, too authentic, and too powerful to try and recreate. That authenticity was a big part of my vision and I couldn't compromise that."
--On the show's male rape storyline:
"I knew from the minute I started outlining Sean's rape that we couldn't half-step with this story. That is a responsibility I feel as both writer and actor. From the beginning, I knew we weren't going to sensationalize rape and I knew we were going to see it through, storywise. As a writer and an actor, I felt strongly that Sean's story couldn't begin and end with the assault itself. The audience had to be with him as he deals with stigma and skepticism from law enforcement, worries about his HIV status in the wake of the rape, grapples with PTSD, and puts his life back together, all while maintaining his place as a pivotal part of the soapy drama that makes ANACOSTIA such a powerful and entertaining show. It's a fine line for both me as a writer and as an actor, but I'm not shying away from it. Both writing the words and acting the scenes is a special challenge and an HONOR because I know I'm helping to tell a story that's been told insensitively, when its been told at all. The early feedback has already been so strong and it humbles me, and I want the audience to know that they're not going to want to miss an episode this season, because Sean's journey is going to be one of the emotional highlights of the season."
--On the classic daytime drama storylines and performances that have inspired and informed Anacostia's treatment of the subject of rape:
"It's not a storyline we've seen that much before, and I think much of that is because rape has had very specific purposes within our genre and is used in particular ways, sometimes controversially. But our story owes a lot to the stories that have come before us—including Elizabeth Webber's rape on GENERAL HOSPITAL, Marty Saybrooke's rape on ONE LIFE TO LIVE, and recently, young Ceara's assault on DAYS OF OUR LIVES; and, of course, Michael's prison attack on GENERAL HOSPITAL—that pushed the envelope a bit, moving audiences from once traditional "shocking twist" and "rapemance" stories into deeper exploration of the violence, pain, and aftermath of sexual assault. A lot of credit goes to the actors, as well, who helped craft these and other powerful stories of sexual assault and abuse onscreen that educated and enlightened audiences. Genie Francis, Erika Slezak, Rebecca Herbst, Susan Haskell, Chad Duell, Judi Evans, Mary Beth Evans, Marci Walker, Robin Christopher, Sal Stowers, Melissa Reeves, and so many more. Really, it's too many to list, but they've all been positive influences on the writing and performance of this important story."
--On whether the show's presence on the web allows it to tell difficult stories differently:
"And, as the online version of ALL MY CHILDREN was able to do with their human trafficking storyline, we're leveraging the freedom we have from being traditional network and advertiser-driven models to take a slightly slower, more nuanced, and certainly grittier look at the topic—not the assault itself (we had no plans to exploit tragedy in such a way, nor to trigger victims of sexual assault, so much of the assault itself happened offscreen), but Sean's long aftermath and recovery. I can't promise we'll get it 100% right, but we are definitely striving to and I know it's already resonating with the audience."
To read the full feature here. Season five of Anacostia is streaming now on YouTube.