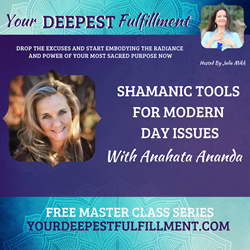 A deeply fulfilling life begins with an awareness of our purpose
SEDONA, Ariz. (PRWEB) November 01, 2018
Anahata Ananda, Shamanic healer and founder of Shamangelic Healing in Sedona, Arizona, joins host Julia Mikk and twenty-one other speakers for an eleven-day tele-summit masterclass series on how to sustain life fulfillment with joy, health and ease. The "Your Deepest Fulfillment" series is designed to assist participants to overcome insecurities and fears, embody ease, tap into clarity, master work-life balance and create a life of deep fulfillment. For decades, Anahata has utilized Shamanic healing practices to assist in addressing deep core issues for her clients looking to create more fulfilling lives. During the interview, she shares with the public some of the techniques, tools and a roadmap required to live a thriving life they love.
"After learning about the work Julia is doing through her Breath of Love courses, I was honored to be invited to participate in her tele-summit," says Anahata. During the half-hour interview, she covers topic ranging from creating better, more consistent connections to the natural world to harmonizing personal relationships. Ancient techniques Anahata has learned from Shamans around the world are blended into applications useful in current, everyday life. She tells her audience, "By bringing in an awareness of the situations, people, and environment we surround ourselves with every day, we can begin to change what we don't like and quantum manifest what we do!"
The free master class series runs November 1st through November 11th. Participants receive two classes a day emailed to them to watch when it's most convenient. The speakers each offer a free gift to all who sign up. Each presenter will share, from within their field of expertise, what fulfillment means to them and how they sustain it with joy, health and ease. The united goal of all the presenters is to offer tools of empowerment to the audience for the purpose of creating deep, fulfilling lives.
Anahata facilitates empowerment courses yearly in Sedona and online through her Quantum Leap Program. The Shamangelic Empowerment & Awakening Weekend Intensive, twice a year, and the Goddess Empowerment Retreat in the spring. All Anahata's teachings revolve around meeting clients and students where they are in their lives and offering proven tools and resources to implement immediately to manifest success in all areas they focus on.
Julia Mikk, born in Estonia and now living in Boulder, Colorado, is an internationally renowned healer, teacher and spiritual guide. She is the founder of Breath of Love movement with certified Breath of Love Practitioners in many countries.
Anahata Ananda has trained extensively with gifted shamans, energy healers and spiritual teachers from around the world to artfully integrate the fields of spirituality, energy healing, self-empowerment and shamanic teachings. Her client-base spans the globe with individuals from all walks of life who are seeking to heal and awaken to their fullest potential.
Anahata offers a variety of Shamangelic Healing services year-round, including private sessions, sacred land journeys and training courses that incorporate Shamanic teachings and other energy healing modalities. She also offers Tailored Retreats for individuals, couples and small groups that can include a combination of private healing sessions, sacred land journeys and other offerings based on various needs and areas of interest.
Shamangelic Healing is a sanctuary for Shamanic healing and spiritual awakening in Sedona. Its breathtaking views nestled within sacred vortexes make it the perfect setting for healing and expansion.
For detailed descriptions and a calendar of all training courses and spiritual awakening services offered by Anahata visit http://www.shamangelichealing.com/