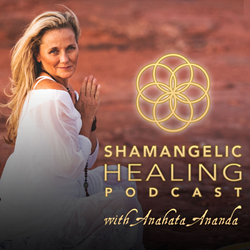 We get real with juicy, authentic and deeply inspirational conversations
SEDONA, Ariz. (PRWEB) April 01, 2019
Sedona based, Shamangelic Healing founder, Anahata Ananda has just released the first five episodes of her new "Shamangelic Healing with Anahata Ananda" Podcast. It is designed as a platform for sharing deep authentic conversations about real life issues. Her mission, with this modality of information sharing, is to impart valuable insights and resources to support listeners in shining their most radiant, authentic self, to create a thriving life they absolutely love, and to manifest their mission. The podcast guest interviews are recorded live in Sedona and can be seen on YouTube, while currently heard on iTunes, and Stitcher. Plans to expand to other podcast hosting platforms is underway. The interviews cover a range of topics from core healing, personal empowerment and spiritual awakening, to elite performance, manifestation, conscious relationships, and vibrant health.
"I am very excited to share these juicy, authentic, and deeply inspirational conversations I have had the honor to be a part of," says Anahata. "My guests and I dive deep into typically controversial topics to shed light on the shadow side of what most people like to keep to themselves. We get real when it comes to addressing the challenges of being famous, doing our inner-work, walking our spiritual path, plant medicine choices, and re-inventing ourselves."
To date, Anahata has released interviews with Aubrey Marcus, founder of Onnit, Bridget Neilsen, world renowned personal development coach, Tommy Baker, author and podcaster, Whitney Miller, former Miss United States and sports anchor, and Taylor Stone, former NFL cheerleader and mind-body connection coach. The conversations with these guests have brought to the surface the costs of ignoring, sedating and distraction as coping mechanisms, the benefits of radical accountability, cultivating authentic power and self esteem, and alternative relationship styles, such as polyamory. Leveraging meditation, forgiveness and healing the "inner child" are other topics Anahata shines a light on.
"I often have clients come to me after they've heard me as a guest on other's podcasts. My mission of inspiring millions to shine their true soul-purpose, led me to realize I can begin to do this by creating my own podcast and sharing conversations about the questions I am hearing so many ask," states Anahata. "I am thrilled it has been received so positively in such a short amount of time!"
Through her Sedona-based events, the Empowerment & Awakening Weekend and Goddess Empowerment Retreat, Anahata blends her Shamanic wisdom with techniques used by the top, elite high-performance experts around the world. Sharing some of this information across her podcast platform allows her to reach those who are not immediately able to come to Sedona for the live group events. In between releasing interviews on her podcast, Anahata will be offering a variety of mini-series segments on specific topics. "Often, my clients are coming to me with concerns about how to address similar challenges. I have begun to break these down into categories, to start addressing on my podcast in order to support my fan base and those seeking help," Anahata shares. With the number of Shamangelic Healing podcast downloads climbing higher, it is obvious the content is filled with relevant information listeners are seeking.
Anahata Ananda blends the compassion and tenderness of an Angel and the wisdom and strength of a Shaman to guide profound journeys of core healing and spiritual awakening. As a Certified High-Performance Coach, Shamanic Healer and Soul Guide, Anahata has guided thousands of individuals across the globe through core life shifts, helping them to turn their life around and create the life of their dreams. She offers deep healing through in-person sessions in Sedona, Arizona and supportive online courses for self-paced, at home learning. https://shamangelichealing.com