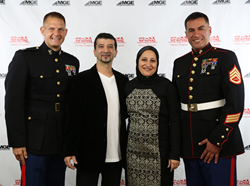 "We are committed to giving back to our community and feel that donating to the toys for Tots literacy program to give the gift of hope and reading to underprivileged children is one of the best ways to do this." Dr. Anaheata Esmailzada
Lodi, New Jersey (PRWEB) December 30, 2014
Dr. Anaheata Esmailzada, MGE Management Experts and Dentists from across the nation gathered with US Marines November 14, 2014 for the MGE Annual Benefit Dinner to raise funds for the Toys for Tots Literacy Program. This year's event raised funds for hundreds of thousands of new books and audio books for the Toys for Tots Literacy Program that will go to underprivileged children this Christmas. It represents another major strike in the battle being waged against illiteracy and helping underprivileged children break the cycle of poverty.
The National Center for Children in Poverty reports that over 16 million children live in poverty. Through the gift of a book, these children are provided with the tools they need to give them a chance to help break the cycle of poverty, one child at a time.
The Benefit Dinner raising funds to help these children was kicked OFF with the Clearwater High School Marine Corp Junior Reserve Officers Training Corp Color Guard and Drill Team. Their Senior Marine Instructor is Lt. Col. Kirk Kumagai U.S. Marine Corp (ret).
MGE Dental Clients and concerned members of the community donated items for a lively auction. Some of the tops items were: Rebecca Minkoff luxury bags donated by Rebecca Minkoff, a Disney World package donated by Dr. Manoj Patel, a Social Media package from Batya Maman Sabag Social Connect, a weekend package from the Holiday Inn Clearwater Beach, a chic shirt and belt from the Craig Taylor Collection, ten 6 course meals from Café Ponte, a 2 Carat Diamond Tennis Bracelet donated by Dr. Pablo Cuevas and much more. All funds went to the Toys for Tots Literacy Program.
During the event presentation, Captain Joseph Draeger of the U.S. Marines said, "Literacy is at the core of academic achievement for all children and it's critical that we work together to help every child have access and exposure to books at home and in their communities. By giving the gift of reading to a child in your life or a child in need, you are not only opening up a world of opportunity for them, but you are giving them a lifetime of joy."
In 1947, after WWII, Toys for Tots began in Los Angeles when Major Bill Hendricks and a group of Marine Reservists collected and distributed 5,000 toys to needy children. Then, in 2008, in order to do something about illiteracy, the Toys for Tots Literacy Program was launched with the mission to offer our Nation's most economically disadvantaged children the ability to compete academically and succeed in life.
Dr. Anaheata Esmailzada said, "We are committed to giving back to our community and feel that donating to the Toys for Tots Literacy Program to give the gift of hope and reading to underprivileged children is one of the best ways to do this. We believe giving the gift of reading will help our young people break their cycle of poverty by helping them acquire skills and talents to learn so they can get a good education, well-paying jobs and success."
MGE Management Experts, Inc. located in St. Petersburg, FL, offers business and marketing training to the owners of dental practices. The training is based on the Hubbard Management System as recognized by the Hubbard College of Administration International that is used in more than 100,000 companies and organizations across the globe to their benefit and prosperity.
Dr. Anaheata Esmailzada received her doctorate in dentistry from Stony Brook University in Long Island where she also earned recognition in the Sigma Beta Honor Society. She completed her residency at St. Joseph's Hospital in Paterson, NJ.
Dr. Esmailzada takes many hours of continuing education courses each year to keep up with the ever-growing technologies in dentistry.
Her main focus is providing high-quality general and cosmetic dentistry. Her most recent training was in Invisalign® technology so patients can now achieve straight teeth without the discomfort of traditional braces.
When she's not working, Dr. Esmailzada enjoys spending time with her two lovely children and traveling with her family.
For more information visit http://www.anasfamilydentistry.com/ or call (973) 365-8009.