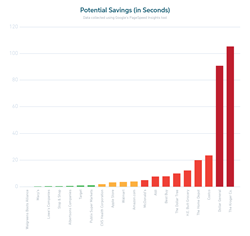 Optimizing imagery on a website results in the most significant improvement in page load speed and ROI.
ROCHESTER, N.Y. (PRWEB) December 17, 2020
LiquidPixels, Inc., the premier provider of enterprise class dynamic imaging solutions, today announced the results of a page and image weight analysis of the top 20 retailers on the National Retail Federation's Top 100 Retailers' websites. Image and page weight affect how quickly websites display for users depending on image format selections, pixel dimensions, device type, bandwidth, and browser type. Optimized sites provide the best user experience and fastest load times, which are critical for search engine indexing and capturing revenue from mobile customers.
LiquidPixels ran a comparison of 20 of the top retailers' sites through its analysis engine LiquidPixels Optimize™—a free website performance tool—to gauge how imagery impacted site load times and performance. The full list of tested retailer image optimization is in the chart below. The results show the potential time savings the sites could gain if their imagery was optimized for mobile devices. All results were verified with Google's PageSpeed Insights tool for MOBILE devices.
Image optimization is one of the most critical factors necessary for a site to render quickly on a mobile device, which is crucial for converting shoppers on their phones. In fact, Google has been prioritizing mobile-first optimized websites in search rankings since September of this year. LiquidPixels research shows many of the top 20 retailers' websites take far longer to load than shoppers are willing to wait.
According to research conducted by unbounce, 26.9 percent of mobile site visitors will only wait between one and three seconds for a site to load before they leave (Google states that most visitors leave if the site does not load in three seconds or less). Their research also shows that 32 percent of visitors can wait four to six seconds before leaving, 24 percent wait between seven to 10 seconds, and only 5.3 percent will wait up to 13 seconds before leaving for another site.
Optimizing imagery should be a significant consideration for retailers looking to deliver the best experience for users on mobile devices. According to Statista, in the third quarter of 2020, mobile devices (excluding tablets) generated 50.8 percent of global website traffic, consistently hovering around the 50 percent mark since the beginning of 2017.
"Page load time is the critical first step in the shopping experience," said Steve Kristy, CEO, LiquidPixels. "Google ranks fast sites higher in search results versus those which are slower. Companies spend countless hours and dollars shooting excellent photography, crafting their user interfaces, and marketing their wares. Yet, if a site loads too slowly, all of that effort is for naught as the shopper will have moved on. Optimizing the images on a site is painless and automatic, resulting in the most significant improvement in page load speed with the highest ROI across all platforms."
LiquidPixels dynamic imagery solutions automatically identify device display capabilities and optimize image presentations, while appropriately addressing HiDPI displays when possible, without increasing bandwidth universally. Optimizing imagery should be a significant consideration for retailers looking to deliver the best experience for users on mobile devices, so they can capture that revenue.
About LiquidPixels
LiquidPixels is the world's only provider of enterprise-class dynamic imaging solutions. Built on open standards, our LiquiFire Dynamic Imaging Solutions integrate into existing web and workflow environments, enhancing product creation and visualization while reducing production costs. Founded in 2000, LiquidPixels makes its patented technology available as a hosted service or via on-site enterprise servers with solutions that may be tailored to each of our customers' unique needs. For more information, visit us at LiquidPixels.com.
Contact: Bruce G. Owens, Jr.
Email: sales@liquidpixels.com
Phone: 866-808-4937 (x307)
LiquiFire® is a registered trademark of LiquidPixels, Inc. "LiquidPixels Optimize" is a trademark of LiquidPixels, Inc. For the full list of trademarks and patents, visit liquidpixels.com/legal.
© 2020 LiquidPixels Inc. All rights reserved.