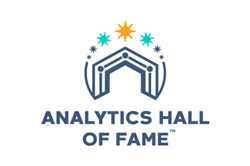 We are thought leaders, truth seekers, and change makers. We come together to reward our successes, test our skills, advance our careers, grow our networks, and support each other."- Dr. Tony Branda, Founder
NEW YORK (PRWEB) March 05, 2019
"As we enter the 'golden age' of analytics. Data-driven decision making has evolved from a corporate sub-department to an essential seat in the C-Suite. Organizational performance is about optimization of key business levers and those companies that fully embrace analytics will be standout performers. It is time for practitioners and academics of analytics to have their own Hall of Fame (Analytics Hall of Fame) providing a well-deserved center stage to recognize unsung heroes and increase professional visibility," says founder, Dr. Tony Branda.
The Analytics Hall of Fame serves as a valuable digital destination for all things analytic:

Practitioner recognition of outstanding performance by those in analytics – both professionals and academics - across specific categories, geographies, and business type. A distinguished panel of recognized analytic experts will judge candidate submissions, with awards announced quarterly as well as an annual live ceremony to recognize the best of the best.
Peer recognition awards provide valuable validation by analytic colleagues. It serves to help members advance their careers through the credentialing that an Analytics Hall of Fame award confers.
Company recognition for those organizations seen as best places to work for analytics and digital professionals. Analytics Hall of Fame Company sponsorships signal to the community the high value and commitment made by senior executives to the use of data science, digital analytics, machine learning, and AI in the management of their companies.
The networking portal is designed as a hub and information exchange forum for analytics professionals to discuss topics of interest, share best-demonstrated practices, solicit help, and foster professional relationships.
The Analytics Health Check provides AI validation and analytics monitoring designed to help C-suite and board members achieve payback from analytics while ensuring privacy and ethical standards.
Our recruiting portal will be a source of outstanding talent. Our founder and judges alone have a combined network of 20,000+ professionals.
Membership is open to all professionals who work in the following disciplines:

Analytics (Insights, AI, Data Science)
Business Intelligence and Big Data
CRM (Mar-tech, Sales, and Marketing Automation)
Digital Marketing and Analytics (Social Intelligence)
Research (Marketing, Market, and Competitive Intelligence)
Awards will be offered in these five categories, as well as Global, Country, and Industry leadership. A panel of expert Judges evaluates submissions from both the professional and academic communities.
Award winners will be announced quarterly and celebrated annually at an induction ceremony. The inaugural awards ceremony will be held on March 25, 2019, at Pace University.
The first group of inductees to the Analytics Hall of Fame includes acclaimed author Beth Comstock, former Vice Chair of GE, who will be discussing her recently published book "Imagine It Forward" (Penguin Random House, 2018). Beth will be joined by other practitioner inductees including Bill Franks, Chief Analytics Officer of the International Institute for Analytics, past CAO for Teradata, and author whose most recent book is The Analytics Revolution (John Wiley & Sons).
Also, the famous Marketing scholar, V. Kumar (http://www.vkclv.com), who is the author of over 250 articles and 25 books including the Statistical Methods in CRM (John Wiley & Sons) and recent Editor in Chief of the Journal of Marketing, will be inducted.
Judges for the 2019 – 2020 term include:
Dr. Tony Branda, Founder - Analytics Hall of Fame; former CAO at Citi and RBS and Professor Digital Marketing and Analytics at Pace University Lubin Graduate School of Business.
Dawn Donnelly, Awards Judge; a Senior leader in Analytics at Walmart.
Dr. Kevin Kramer, Awards Judge; former Head of Analytics Aetna, Bank of America
George Ling, Awards Judge; consultant to major banks in analytics and marketing.
Jim Sterne, Awards Judge; best selling author of digital marketing books.
Mark Weber, Awards Judge; former head of market research at Bank of America.
"Analytics has become crucial to the operation of all types of organizations. It's high time those who have done the heavy lifting in our industry get the recognition they so richly deserve," said Jim Sterne, Awards Judge and author "Artificial Intelligence for Marketing." Wiley 2016.
According to Vishal Kumar, CEO/President of Analytics Week, "Analytics Hall of Fame is not only a great initiative to bring leaders together but also a platform to celebrate those who have contributed to the ecosystem and helped others succeed in this team sport. I sincerely appreciate Dr. Branda's rigorous effort to bring leaders closer, and I am privileged to be associated with the Analytics Hall of Fame. It is challenging to lead in the darkness; a few more voices would only make the journey better for all of us."
To learn more about becoming a member or sponsor of the Analytics Hall of Fame, or to participate in the Annual Hall of Fame Awards Ceremony, visit http://www.AnalyticsHallofFame.com
Analytics Hall of Fame Social Media Links
https://www.facebook.com/analyticshalloffame
https://www.linkedin.com/company/analyticshalloffame-
com/
https://twitter.com/AnalyticsFame
https://www.instagram.com/analyticshalloffame/