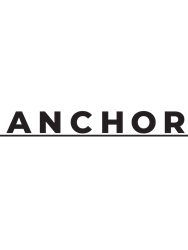 We are committed to offering token users long-term price stability and preservation of purchasing power.
NEW YORK (PRWEB) August 20, 2019
Anchor, a two-token, algorithmic stablecoin pegged to the sustainable and predictable growth trend of the global economy, launched beta testing today for the new Anchor Wallet in conjunction with announcing that it will be listed on Liquid by the end of August. Liquid, a unified, globally-sourced trading platform that bridges the worlds of fiat and crypto, plans to list Anchor's stablecoin (ANCT) on their exchange, being the first to offer crypto traders, investors, and enthusiasts the opportunity to purchase, trade, and sell the first algorithmic stablecoin pegged to the global economy. With over $50 billion USD transactions in the last 12 months, Liquid will be the first platform to list ANCT.
"We are true believers of the impact cryptocurrencies can have on the future of finance, which drives us to support companies like Anchor. " Says Mike Kayamori, CEO and Co-founder of Liquid. "With the technology to provide stability against rising inflation and market volatility, we are excited to be the first exchange to launch a token pegged to the growth of the global economy."
Anchor Founder and CEO Daniel Popa said, "The release of our Anchor Wallet beta testing marks a significant step towards our preparation for launching on the premier exchange, Liquid. We are committed to offering token users long-term price stability and preservation of purchasing power."
The Anchor Wallet, developed in partnership with Ambisafe, a global capital markets and blockchain infrastructure provider, is a digital wallet that can be used to purchase Anchor tokens (ANCT) with any fiat currency or major cryptocurrencies such as BTC, ETH, USDT, and USDC, and liquidated at any time by using the transfer feature to any Ethereum wallet address.
Crypto traders and enthusiasts interested in participating in the Anchor Wallet's closed beta testing can apply for access today by visiting theanchor.io/wallet. If accepted, beta testers will have the ability to use all wallet features including buying, selling, exchanging, and transferring ANCT within the closed network. Participants will be encouraged and incentivized to provide valuable feedback to facilitate with the wallet's development in the lead up to Anchor's launch on its first exchange later this month.
As part of its incentivization program for Anchor Wallet beta testers, Anchor is offering a welcome bonus of 25 ANCT to users upon completion of their first transaction of over 25 ANCT, which is equivalent to approximately $20 USD. Participants will also have access to the Anchor Wallet's referral program enabling them to earn 5% of the monthly trading volume in ANCT for each new referral for the initial three (3) months.
Ambisafe Founder Andrey Zamovskiy added, "Ambisafe is dedicated to providing the highest standard of security and functionality across all of our products and services. We are proud to partner with Anchor on the development of the Anchor Wallet and believe that their stablecoin, and the wallet we developed together will provide the stability and resilience from market volatility that the cryptocurrency market has been waiting for since the advent of stablecoins."
A two-token, algorithmic stablecoin, Anchor is pegged to global economic growth via the Monetary Measurement Unit (MMU). The Monetary Measurement Unit (MMU) is a non-flationary financial index created by an algorithm that takes tracks a series of macroeconomic indicators to provide the most accurate, available measure of real value that exists in the world today.
Anchor's two-token model consists of Anchor Tokens (ANCT), that serve as the main currency/payment tokens; and Dock Tokens (DOCT), the utility tokens that stabilize the currency ensuring ANCT remains pegged to the MMU, regardless of external market fluctuations. DOCT cannot be used as a means of payment or transferred from one token holder to another, and can only be exchanged during Contraction and Expansion phases. Anchor's elastic currency supply is regulated by the Contraction and Expansion mechanisms through which Anchor's system will programmatically buy and sell, as well as burn and mint tokens in order to maintain ANCT's price in equilibrium with the MMU.
To celebrate its launch on the Liquid exchange, as well as the release of the Anchor Wallet, and other exciting project developments, the Anchor team will be hosting a networking event and panel discussion on the sidelines of Invest: Asia at an iconic venue in Singapore on September 12th, 2019 at 7pm. To register for Anchor's event please visit http://www.theanchor.io/events.
For media inquiries, please contact:
Olya Moskalenko
Chief Communications Officer
olya.moskalenko(at)theanchor.io
+1 (917) 355-1647
Sarah Cohen
Melrose PR Account Executive
Sarah(at)melrosepr.com
+1 (310) 260-7901
About Anchor
Anchor is a stablecoin cryptocurrency pegged to a non-flationary, algorithmic index that reflects the long-term growth of the global economy. The Monetary Measurement Unit (MMU) algorithm is based on the GDP of more than 190 countries and further stabilized with FX indicators from a basket of eight currencies, and premium sovereign bond yields from 10 of the world's strongest economies. Offering the stablecoin market an alternative to fiat-pegged stablecoins, Anchor's tokenomics ecosystem is designed to be intrinsically stable with its MMU and safety-net of six stabilizing mechanisms, including a two-token, burn-mint model to ensure stability and equilibrium regardless of market growth or recession. CEO Daniel Popa, a serial telecom and software entrepreneur with over 20 years experience running successful multinational companies, has led a team of PhD economists in developing Anchor's proprietary MMU. Anchor's network of partners includes Ambisafe, blockchain infrastructure provider that previously worked with Tether; as well as KYC Spider, a digital KYC compliance tool for financial intermediaries and the fintech industry.
About Liquid
Founded in 2014, we are a leading global fintech company that operates Liquid.com ("Liquid"), a global cryptocurrency platform that provides trading, exchange, and next generation financial services powered by blockchain technology. With offices in Japan, Singapore, Vietnam, and now the USA, Liquid combines a strong network of local partners with extensive team experience in banking and financial products to deliver best in class financial services for its customers.
Today, Liquid is the world's largest crypto-fiat platform by transaction volume, regulated in Japan. Powered by the World Book, which provides customers enhanced price matching and deeper liquidity for various fiat and cryptocurrency pairs, Liquid offers trading services for major cryptocurrencies such as bitcoin and ethereum against fiat currency pairs in Japanese yen, US, Singapore and Australian dollars, and euro.
As part of the Liquid roadmap, we are developing a range of new features and services including a distributed ledger, which will allow other fintech companies to build their products and services on distributed ledger technology.
In the span of two years:
September 2017 – We became the first global cryptocurrency exchange to be officially licensed by the Japan Financial Services Agency.
October 2017 – We became the first licensed global cryptocurrency exchange in Japan to launch a global Initial Coin Offering (ICO), also known as the Qash Token Sale.
November 2017 – We successfully raised 350,000 ETH (approximately USD105 million) through the sale of 350 million Qash in an oversubscribed ICO, to fund the growth of the Liquid platform.
September 2018 – Our historical trading platforms, Quoinex and Qryptos, were merged and relaunched as Liquid.
July 2018 – Our trading platforms exceeded USD50 billion in transaction volume in the past 12 months.
October 2018 – We are featured in KPMG's Top Fintech 100 list
April 2019 – We achieved tech unicorn status in the first close of our Series C fundraising, with a valuation of over $1 billion.
More than just a cryptocurrency exchange, Liquid offers powerful trading features which include:
Margin trading of up to 100x leverage for select crypto-fiat pairings
A sophisticated user dashboard for pro traders
Secure cold wallet storage and KYC compliance for individual and corporate customers
Proprietary World Book technology that matches orders across global order books, providing access to liquidity pools sourced by a unified platform, Liquid.com
Liquid Infinity, a Bitcoin Contracts For Difference (CFD) product that provides up to 100x leverage
More information is available at Liquid.com.
About Ambisafe
The Ambisafe team is renowned for their technical and financial prowess. They have saved money during the Parity wallet hack and have identified issues in some of the top exchanges. Combined their business leaders have over 40 years of blockchain experience and 50 years of financial expertise in US markets. Their services include building complex infrastructure on the blockchain, conducting code reviews and providing end-to-end token sale infrastructure. Most recently, their trading platform Orderbook has launched a project to offer economic interest in Pre-IPO companies such as SpaceX.