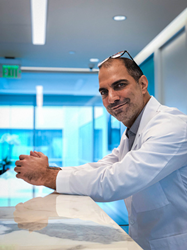 PASADENA, Calif. (PRWEB) March 04, 2020
Andre Panossian MD Plastic Surgery has recently moved from its Beverly Hills office to a new surgical center in Pasadena. The state-of-the-art office is located on the top floor of a newly constructed building situated near the Huntington Memorial Hospital Campus.
The facility is conveniently located in the same building as a brand new, fully-accredited surgical center staffed by licensed anesthesiologists and nurses. Dr. Panossian sees the move to the new Pasadena office as an opportunity to serve his patients more effectively and to allow for the best possible experience before, during, and after each procedure.
Many out-of-town patients who see Dr. Panossian are able to return home or to their hotel on the same day as their procedure. However, an overnight stay at a nearby post-surgical recovery facility is sometimes advised. Dr. Panossian personally recommends Trinity Aftercare at the luxurious Langham Huntington Hotel when recovery assistance is needed. The facility is situated nearby in a beautiful suburb of Pasadena.
Another option for patients who require post-surgical care is to have a nurse stay overnight in their home or hotel room. Dr. Panossian is also on staff at Huntington Memorial Hospital and Cedars-Sinai Medical Center where patients requiring close medical attention following surgery can be admitted.
Dr. Andre Panossian is a board-certified and internationally-acclaimed LA plastic surgeon specializing in rhinoplasty, facial aesthetics, and body contouring. In addition to cosmetic surgery, he also treats a variety of medical conditions such as facial paralysis, neurofibromatosis, pediatric plastic surgery, and vascular birthmarks. With the new location, Dr. Panossian adds a licensed aesthetician to his roster and now offers high end non-invasive treatments such as Morpheus8, Forma RF skin remodeling, DiamondTome microdermabrasion, Lumecca IPL, VI Facial Peel, and spider vein laser treatments. A new signature facial is also offered, incorporating the very best skin products from the aesthetic industry's top performing manufacturers.
The doctor has a deep passion for helping children with birth defects and works with charitable organizations to provide medical assistance and complex reconstructive surgery to underprivileged youth. He is on the Board of Directors for Mending Kids and the Gondobay Manga Foundation and works closely with Operation Smile. He has been featured as a "Top Doctor" in the US News and World Report, Los Angeles Magazine, and Pasadena Magazine. Dr. Panossian has also worked on several television shows, including The Doctors, Grey's Anatomy, and Nip/Tuck as a medical consultant. For the past ten years, he has been nominated as a "Super Doctor" by his colleagues.
Dr. Panossian belongs to the American Society of Plastic Surgeons and the American Association of Plastic Surgeons. He is also a member of the American College of Surgeons and the American Society of Reconstructive Microsurgery.
Andre Panossian MD Plastic Surgery's new Pasadena office is located at 39 Congress St #402, Pasadena, CA 91105. For more information, contact 800-958-3778 or visit https://drpanossian.com/.