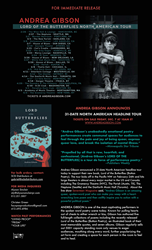 "Andrea Gibson's unabashedly emotional poetry performances create communal spaces for audiences to feel through the pain and joy of being queer, express queer love, and break the isolation of mental illness." - Minneapolis Star Tribune
MINNEAPOLIS (PRWEB) December 06, 2018
Renowned performer Andrea Gibson is celebrating the release of their new book, Lord of the Butterflies (Button Poetry), with a 31-date North America headline tour in early 2019. The tour kicks off in the Pacific NW on February 26th and hits large theaters in almost every major market in the US and Canada including The Gramercy Theatre (NYC), The Parish (Austin, TX), The Neptune (Seattle) and the Danforth Music Hall (Toronto). About the live show Seventeen Magazine said, "Andrea Gibson is an amazing queer, spoken-word poet who can make you weep with a heart-wrenching love poem and then swiftly inspire you to action with a powerful political poem."
Tickets for all shows go on-sale at http://www.andreagibson.org Friday, December 7th.
Andrea Gibson is one of the most captivating performers in the spoken word poetry scene today. Known for pulling hearts out of chests to either wrench or kiss, Gibson has authored five full-length collections of poems including the recently released Lord of the Butterflies (Button Poetry), an illustrated book of their most memorable quotes, and seven albums. Gibson regularly sells out 500+ capacity standing room only venues to eager audiences, mouthing along every word, further popularizing the art form and creating a space for each person in the room to feel and to heal.