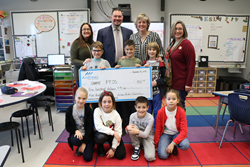 SUITLAND, Md. (PRWEB) December 19, 2018
Andrews Federal Credit Union donated $900 to the SHAPE American Elementary School in Mons, Belgium for the purchase of the RAZ-KIDS software program. This program is designed to teach children how to read while testing reading comprehension along the way. Andrews Federal learned of the need for this program through its ongoing partnership with the school. This program will be used mainly with students who come from homes where English is not the primary language spoken.
"You cannot put a price on the ability to read", said Joshua Barrett, Branch Manager at the Chievres, Belgium branch, "Watching these students use the program and learn brings me such joy. I am happy that we were able to provide this for them."
About Andrews Federal Credit Union
Andrews Federal Credit Union was founded in 1948 to serve the needs of military and civilian personnel by providing a vast array of financial products and services. With over $1.7 billion in assets, Andrews Federal has grown to serve more than 126,000 members in the District of Columbia, Joint Base Andrews (MD), Springfield, Virginia (VA), Joint Base McGuire-Dix-Lakehurst (NJ), and military installations in central Germany, Belgium, and the Netherlands. In addition, the Credit Union serves as a financial partner with many select employee groups in Maryland, the District of Columbia, Virginia and New Jersey.
To learn more about Andrews Federal Credit Union and its community involvement, or to become a member, call 800.487.5500 or visit http://www.andrewsfcu.org