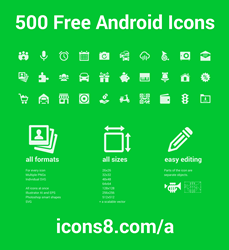 We are sorry for ignoring the Android communities needs for so long. So, unlike our other icon packs, we decided to release it completely free, including vectors.
New York, NY (PRWEB) May 01, 2014
Icons8 is known for its largest icon packs for Windows 8 and iOS 7, together with 3940 icons. Now the company is adding Android icons too, starting with 500 icons.
"We are sorry for ignoring the Android communities' needs for so long" - says Ivan Boyko, founder of Icons8. "So, unlike our other icon packs, we decided to release it free of charge, including vectors". Still, Icons8 is asking to credit their work with a link.
Features

The largest collection of icons in the same style. The clients of Icons8 appreciate that they could find all icons in the same style, which is impossible by using assorted icons found on icon search engines. "You search for 'home' and get four pages of homes of different shapes and different quality", explains Ivan. "It's hard to find a good one, but imagine you've chosen a great one. Now when you are looking for another icon, you need it to match the same style, thus finding the next icon becomes even harder. Instead, searching our packs, you get only one 'home' icon, and any of the other 3400 icons would match its style perfectly".
The icon ideas are generated by the community not by our designers, resulting in icons that people really need. "How do other icon designers do their work? They want their icon pack being large. If they draw say, a rocket, they do a dozen different versions of the rocket in slightly different shapes, with a different number of windows etc. This is an easy way to make the icon pack 12 icons larger, but doesn't bring value to the users", - says Ivan. "Instead, we do what people actually need: If the community asks for a rocket, we make a single rocket. We don't do work just to blow the total number of icons".
The app for Mac OS and Windows. The app allows to search icons within two seconds and insert them into Photoshop, Eclipse and other tools. Icons8 invested five months of work of five engineers to make icons tagged, searchable and exportable. "I'm honestly very impressed. I used to spend a lot of time going through multiple sites trying to find the right icon before", says one of the users in the comments.
All possible formats: SVG, EPS, PNG, Photoshop custom shapes and IBM punched cards. There's also a simplified SVG version that works with SVG font-generating tools. Unlike other sets, that contain only PNGs unless you pay, Android icons have had all formats included for some time. "We'll probably turn this into a paid set sometime, but as promised: whatever is downloaded free, remains free", - says Ivan.
Icons8 is a company developing the world largest icon packs for software developers and UI designers, along with tools to support these icon packs. The basic license allows free use of the icons for a link; paid license allows unlimited use without a link and includes vector formats (excluding Android icon pack that already contains all vectors). Among others, the paid license is purchased by Apple, Adobe, Accenture and several governments.