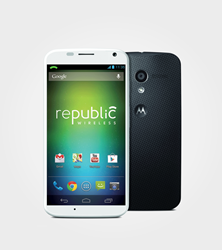 KitKat offers a lot of enhancements when it comes to convenience and the user experience. We believe it will help our members get even more from their smartphone.
Raleigh, North Carolina (PRWEB) April 22, 2014
Republic Wireless, the smartphone service provider that harnesses the power of Wi-Fi and cellular to save consumers money on wireless service, today began rolling out the latest Android update, 4.4.2 KitKat, to a limited number of Republic Wireless Moto X subscribers via an over the air update. Republic is scheduled to expand the KitKat release to the entire Moto X customer base starting April 30th. The Moto G ships with the KitKat 4.4.2 update.
"We've been working closely over the past several months with Sprint to certify Android 4.4.2 for the Republic Wireless Moto X and Moto G," said Jim Mulcahy, executive vice president and general manager of Republic Wireless. "KitKat offers a lot of enhancements when it comes to convenience and the user experience. We believe it will help our members get even more from their smartphone."
New Android 4.4.2 features for Republic Wireless Moto X and Moto G smartphones include:
1. Better memory management and multi-tasking – KitKat is designed to run faster which will make multi-tasking easier.
2. Camera update – KitKat enhances the "Touch to focus" option to adjust a photo's focus and exposure.
3. Improved contextual search – Google Now contextual search can predict information based on location or favorite sites. Android 4.4.2 also features a new app-linking feature, which allows Google Search to deep-link search results to applications on the device. So for instance, searching for restaurant information via Google Now can also direct the search to a reservation app.
4. Printing on the go – Android 4.4.2 includes support for Google Cloud Print which makes it easier to print documents or photos on your phone over WiFi or Bluetooth to compatible printers.
5. Cloud storage integration – Save and open directly from the cloud, without having to save into the device's storage first. KitKat builds support cloud storage solutions including Google Drive into the operating system.
6. Built in sensors - Android 4.4.2 adds operating system support for both a step counter and step detector allowing fitness app developers to access pedometer data without complex code.
7. Closed captioning – For the hearing impaired KitKat improves accessibility by adding support for system-wide captioning settings allowing the phone owner to set whether captions should be shown, the language, and text-related options including size and font. Apps that use video can also access these setting and show on screen.
For more information on this update please check out the Republic Wireless blog.
About Republic Wireless
Recognized in the 2014 PCMag.com Readers Choice Awards as having better overall customer satisfaction than the largest four national carriers, Republic Wireless is a wireless service provider dedicated to helping consumers save money on their smartphone service. Republic Wireless, a division of Bandwidth, headquartered in Raleigh, North Carolina, is spearheading a wireless freedom movement to return value and control of the smartphone experience to members by leveraging the power of both WiFi and cellular networks. Our Hybrid technology uses WiFi in the home, office or anywhere else as the primary network for calls, texts and data. When outside of WiFi coverage, the smartphone works just like a typical smartphone on the cellular networks of national CDMA carriers. Visit http://www.republicwireless.com/ for more information. Media resource center here.