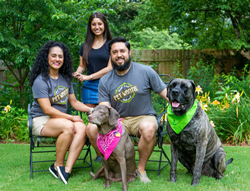 Pet Wants allows us to help pet owners better understand pet food so they can find the right products for their individual pets and it enables us to help pet families take a more holistic approach to pet health through both our food and our other unique products. -Angelica De La Torre
ALPHARETTA, Ga. (PRWEB) July 22, 2020
Local pet parents Angelica and Sergio De La Torre are pleased to announce the launch of their new pet food and supplies company – Pet Wants Alpharetta.
Pet Wants' specially-crafted, private-label pet food formulas are made in small batches with fresh, natural ingredients enhanced with vitamins and minerals for a complete and balanced diet in every bowl. Pet Wants Alpharetta has multiple blends of dog and cat food formulas as well as healing salve, calming balm, anti-itch spray, paw wax and more. Pet Wants Alpharetta is a mobile business that offers free, personal delivery throughout Alpharetta, Milton, Roswell and the surrounding areas.
"We strongly believe that our health is dependent on what we put into our bodies – whether we have two legs or four legs – and that's why we opened Pet Wants Alpharetta. Pet Wants allows us to help pet owners better understand pet food so they can find the right products for their individual pets and it enables us to help pet families take a more holistic approach to pet health through both our food and our other unique products," Angelica said.
Pet Wants has a money-back guarantee on the freshness and quality of the food and the company only sources the best salmon, chicken, lamb, brown rice and other ingredients available. There's no sugar added, no fillers and no animal by-products and Pet Wants never uses corn, wheat, soy or dyes, which makes the food great for animals with allergies.
Angelica and Sergio are high school sweethearts, natives of El Paso and residents of Roswell. They have a daughter, Samantha, who is a student at the University of Kentucky, and two dogs – a Lab/Weimaraner rescue named Roxy and an English mastiff named Zeus.
"Pet Wants is unique on many levels, but I think the freshness is really what sets the products we sell apart from the competition. Our food is made fresh, in small batches, and we know exactly what's in each blend," Angelica said. "Our own two dogs have been eating Pet Wants food for about two years and we couldn't be happier with their health, energy levels and overall wellness. We started with the goal of improving the health and well-being of our own pets. Now, we hope to use what we have learned to promote nutrition and vitality in pets in our community! We love being able to work with animals and pet families every day."
To learn more about Pet Wants Alpharetta, call 770-818-4506, email ADeLaTorre@PetWants.com or visit https://www.petwants.com/alpharetta/.