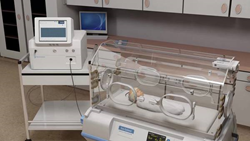 Raising money through AngelMD is basically raising money from our future users. - Graham Randall, Noninvasix CEO
DENVER (PRWEB) January 07, 2019
Today AngelMD announced that it completed a syndicate investment comprised of its members into Noninvasix. This represents the second investment AngelMD has made into Noninvasix in the past year.
To reduce the incidence of neonatal mortality and morbidity, Noninvasix is developing a patient monitor to directly, accurately, and noninvasively measure brain oxygenation in preterm babies in the NICU. Early detection of inadequate brain oxygenation will allow neonatologists to intervene before cerebral function is permanently compromised.
Leading the AngelMD syndicate of investors was Jagjit Khairah, DO, FACOG, Department of Obstetrics & Gynecology, Kelsey Seybold Clinic who had this to say about Noninvasix: "The technological advances used with by Noninvasix to detect levels of oxygenation without needing a blood sample is remarkable. To have instant results using acoustic and laser sensor related probes will enable health care teams across many specialties of medicine to expedite critical care. Graham and his team have an amazing vision and are poised to help us change the way we address the needs of our patients on many fronts using this innovative technology."
"Raising money through AngelMD is basically raising money from our future users. These are the people who understand best how Noninvasix's technology can be a solution to some of their biggest issues." said Graham Randall, CEO Noninvasix. "While we value all capital investment, having a group of engaged and supportive physicians backing us brings value well beyond the money."
About Noninvasix
Noninvasix is developing non-invasive precision oximetry, which will allow doctors for the first time to accurately monitor oxygen sufficiency within organs without invasive catheters. Inadequate organ oxygenation is a major cause of death and permanent disability in hospitals. Prompt recognition of low venous oxygenation can be used to guide therapeutic interventions and reduce adverse outcomes.
With patented optoacoustic technology at its core, Noninvasix's system consists of a disposable probe that can be worn on the head, chest or wrist — depending on the desired metric — and a display console.
Noninvasix's undertaking is backed by 15 years of optoacoustic research by its co-founders, more than $6.5 million in research grants, 9 patents, and validation in peer-review journal articles.
For more information, visit http://noninvasix.com/
About AngelMD
AngelMD, an online Healthcare Investment and Innovation Marketplace, connects and engages a network of physicians, angel investors, early stage healthcare companies and subject matter experts through a powerful technology platform to create better outcomes for patients and investors. For more information, visit http://www.angelmd.co