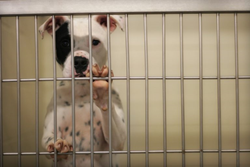 Pet overpopulation continues to be a problem in this country. Here in our community is no different. With this campaign we hope to reverse the alarming rates of pet euthanization and give these loving animals a chance of a happy home
Austintown, OH (PRWEB) October 19, 2017
The Todd Stovall Insurance Agency, a northeastern Ohio firm offering insurance assistance and financial preparation services to families and business professionals in the Austintown region, is launching a grassroots charity drive to rehabilitate and re-home pets that are homeless or orphaned.
Many animals in the Mahoning County region are without forever homes, and the Todd Stovall Insurance Agency is working to support the saving efforts of New Lease on Life, the local animal shelter. With this campaign, the agency hopes to raise awareness of growing pet overpopulation issues while working to rescue animals from abusive or negligent owners and find them new, loving families.
"Pet overpopulation continues to be a problem in this country. Here in our community is no different. With this campaign we hope to reverse the alarming rates of pet euthanization and give these loving animals a chance of a happy home," says Todd Stovall, acting director and founder of the Todd Stovall Insurance Agency.
The Stovall team has already launched an online awareness campaign over social media and email channels, and will continue to provide information to local supporters for the duration of the charity event. The Todd Stovall Insurance Agency is also preparing a full length news article reporting on the charity drive which will be published in a soon to be released edition of the firm's online magazine "Our Hometown": http://toddstovall.com/magazines/.
This marks the third major charity campaign undertaken by Todd Stovall Insurance since the firm became an Ohio representative of the Agents of Change charity assistance network. Going forward, the Stovall team plans to launch additional charity initiatives in the area at the rate of one new event every three months.
The Todd Stovall Insurance Agency has made the following page available for readers interested in learning more about the regional charity drive to rescue, rehabilitate, and re-home orphaned and neglected animals: http://toddstovall.com/causes/new-life-homeless-pets/. For a full listing of all charity events previously undertaken by the Todd Stovall Insurance team, and for announcements on new charity events, readers are directed to the agency's Community Causes page: http://toddstovall.com/community/.
About the Todd Stovall Insurance Agency
As a Personal Finance Representative in Austintown, agency owner Todd Stovall knows many local families. His knowledge and understanding of the people in his community ensures that clients of the Todd Stovall Insurance Agency are provided with an outstanding level of service. Todd and his team look forward to helping families protect the things that are most important – family, home, car and more. The Todd Stovall Insurance Agency also offers clients a preparation strategy for achieving their financial goals. To contact an expert at the Todd Stovall Insurance Agency, visit http://toddstovall.com/ or call (330) 792-2695.