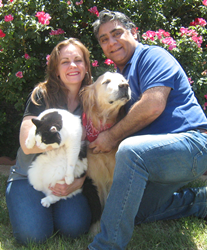 I'm excited to share what I know – and what Pet Wants knows – about using nutrition to keep pets healthy and to serve other pet lovers in our community. -Dr. Anoosh Rakhshandeh
LUBBOCK, Texas (PRWEB) July 22, 2020
Local animal nutrition expert, Dr. Anoosh Rakhshandeh, and his wife, Dr. Amanda Rakhshandeh, are pleased to announce the launch of their new pet food and supplies company – Pet Wants Lubbock.
Pet Wants' specially-crafted, private-label pet food formulas are made in small batches with fresh, natural ingredients, enriched with vitamins and minerals for a complete and balanced diet in every bite. Pet Wants Lubbock has multiple blends of dog and cat food formulas, as well as healing salve, calming balm, anti-itch spray, paw wax and more. Pet Wants Lubbock is a mobile business that offers free, personal delivery within Lubbock and its surrounding areas.
"Pets are such an integral part of our lives and our families, and so their overall care – including their nutrition – is paramount to their health and longevity. We believe in Pet Wants' products and the positive impact the food, treats and other supplies can have on the welfare of animals. We're looking forward to sharing Anoosh's nutritional expertise and our fantastic products with this community," Amanda said.
Pet Wants has a money-back guarantee on the freshness and quality of the food and the company only sources the best salmon, chicken, lamb, brown rice and other ingredients available. No sugars, no fillers and no animal by-products are added, and Pet Wants never uses corn, wheat, soy or dyes, which makes the food great for animals with allergies.
Anoosh and Amanda are the proud parents of one daughter and two fur-sons – a 13-year-old golden retriever, Jasper, and an 11-year-old Maine Coon, named Bafi. Amanda grew up in the Texas Panhandle with dogs and cats as constant companions. After moving away for college, where she gained her PhD studying viruses, Amanda then researched the ability of botanical extracts to prevent virus infection before returning back home. She currently teaches Anatomy & Physiology and enjoys helping her college students improve their lives through education. Anoosh has a PhD in animal nutrition and has been serving the animal community for the last decade. During that time, he has dedicated his life to improving animal welfare through science-based nutrition. Anoosh has made several important scientific discoveries in the field of animal nutrition, he has taught animal nutrition to countless students at various institutions of higher education and he's written or contributed to more than 50 scientific papers, articles, abstracts and book chapters.
"Food can have a huge impact on the health, well-being and longevity of a pet, and I've used my scientific training to successfully monitor and adjust the nutritional value and food intake of my two pets since they were young. At a recent check-up, the vet told me that the blood work of our 13-year-old golden retriever looked like that of a dog half his age. I'm excited to share what I know – and what Pet Wants knows – about using nutrition to keep pets healthy and to serve other pet lovers in our community," Anoosh said.
For more information about Pet Wants Lubbock, call 806-319-5201, email DrAnoosh@PetWants.com or visit http://www.PetWants.com/Lubbock.