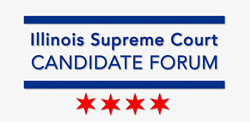 Cook County voters "are looking for candidates and elected officials who will address their concerns at a community-wide level." - Ami Gandhi, Chicago Lawyers' Committee for Civil Rights
CHICAGO (PRWEB) March 13, 2020
Meet four candidates who are running in the Democratic primary for 1st District Justice of the Illinois Supreme Court. In exclusive interviews with Chicago injury attorney Howard Ankin, Supreme Court Justice candidates Cynthia Cobbs, Nathaniel Howse, Margaret McBride, and Jesse Reyes discuss their backgrounds, their qualifications, and their desire to fill the upcoming vacant seat in Illinois' highest court.
The election will determine which candidate will replace Justice Charles E. Freeman who retired in June 2018. Justice P. Scott Neville Jr. was temporarily appointed to take his place. However, he must be elected at the Democratic primary to retain his seat.
Be Sure to Cast Your Vote in the Democratic Primary
More than one million Cook County residents are expected to vote in the Democratic primary, which will take place March 17, 2020. The general election is scheduled for November 3, 2020. Normally, the Democratic and Republican primaries would determine which candidates from each party would compete in the general election. There are very few Republicans in Cook County, however, and there are no Republican candidates on the ballot for this election. Since all of the current candidates are with the Democratic party, the candidate who wins the primary will most certainly become the next Justice of the Illinois Supreme Court.
Illinois Supreme Court Justice Candidates Bring Diversity, Education, and Experience to the Bench
The next Illinois Supreme Court Justice has big shoes to fill, but that shouldn't be a problem for our four featured candidates. Some of Illinois' finest residents, each candidate possesses outstanding leadership and decision-making skills, courtroom experience in a variety of areas of the law, and dedication to the community.
According to Ami Gandhi, director of voting rights and civic empowerment at the Chicago Lawyers' Committee for Civil Rights, Cook County voters "are looking for candidates and elected officials who will address their concerns at a community-wide level."
While there is no clear front-runner at this time, it appears that with these four candidates in the race, Illinois residents can't lose.
Meet Justice Cynthia Cobbs
Justice for the 1st District, 3rd Division of the Illinois Appellate Court since 2014, Cynthia Cobbs (D) brings unique qualifications to the race. Originally from Maryland, she worked as a social worker in Maryland clinics for a number of years. Her extensive background in social work enables Cobbs to relate to people from all walks of life. In her interview with Howard Ankin, Cobbs stated that while judges must follow the law, she believes they need to understand family dynamics and human behavior. According to Justice Cobbs, such understanding helps judges evaluate credibility and appreciate the issues people are facing when deciding a case.
"No other candidate running will have worked on as many Supreme Court decisions as I have." - Justice Cynthia Cobbs
Cynthia Cobbs has worked for the Illinois Courts for more than 30 years. She obtained her law degree in 1988 from the IIT—Chicago Kent College of Law and has since enjoyed a professional career that has been rich and diverse. She has held a variety of positions including clinical social worker, research attorney, judicial law clerk for the Illinois Supreme Court, staff attorney, chief legal counsel, state court administrator, Illinois Circuit Court judge, and Justice on the Illinois Appellate Court.
A member of Lawyers Lend a Hand - a non-profit organization that helps at-risk youth, Cobbs regularly helps tutor more than 45 African American children from our community.
Justice Cynthia Cobbs was the first African American and the first woman to serve as director of the Administrative Office. If elected, she will be the first woman of color as well as the first black woman to hold a seat on Illinois' highest court.
Meet Justice Margaret Stanton McBride
Justice for the 1st District, 5th Division of the Illinois Appellate Court since 1998, Margaret Stanton McBride (D) has authored more than 2,000 decisions in criminal and civil appeals. With over 32 years total service on the bench, her experience as an Illinois judge and her knowledge of the law are extensive.
Throughout the course of her career, Stanton has dedicated her spare time to the legal community. She teaches attorneys and judges, volunteering her services to state-wide judicial education, law schools in the Chicago area, and bar associations.
"I think that I'm the most qualified candidate that's running for this office.." - Justice Margaret Stanton McBride
Justice McBride obtained her law degree from Chicago's own DePaul University College of Law in 1976. Out of law school, she worked as an associate with a civil practice firm until 1977 when she began working as Cook County Assistant State's Attorney - a position she held until 1987. She was appointed as an Associate Judge of the Circuit Court in 1987 and was elected to serve as a Cook County Circuit Court judge in 1990. In 1998, McBride was elected to the Appellate Court where she continues to serve the people of Illinois.
The first county-wide Domestic Violence Coordinator for Cook County Circuit Court, Justice Margaret McBride was recognized by the Women's Bar Association of Illinois for her groundbreaking work on behalf of women.
A 2011 study of Cook County judicial elections indicated that Irish women have an edge with Cook County voters. If that's so, Justice McBride is a step ahead of the game in the race to become Illinois Supreme Court Justice.
Meet Justice Nathaniel R. Howse, Jr.
A 1st District, 5th Division Justice of the Illinois Appellate Court, Justice Nathaniel R. Howse (D) was appointed in 2009. He was elected in 2012. Justice Howse is from a humble beginning. He grew up watching his parents struggle in Tennessee - a world that was filled with racial segregation and inequality at the time. Today, many Illinois families continue to face similar hardships, and Justice Howse has vowed to fight for those families every day.
"That's one of the things I've focused on throughout my career is to reach out to all communities, to be familiar with all communities, and to… be open to all people." - Justice Nathaniel Howse
The difficulties Howse and his family faced during his youth have helped to mold the man he is today. In fact, he has dedicated much of his career to advocating for the rights of women, people of color, immigrants, working families, and senior citizens. According to Justice Howse, his life experiences give him a different perspective that can be very valuable in the Illinois Supreme Court.
Justice Nathaniel Howse obtained his law degree from Loyola University Chicago School of Law and was admitted to the practice of law in 1976. He was an attorney in private practice for 22 years. In 1998 he was elected to the Cook County Circuit Court where he served until 2009 when he was assigned to the Illinois Appellate Court. He was elected to the Appellate Court in 2012 and continues to serve today.
With such a diverse population in Chicago and the state, diversity should be a main ingredient of the Illinois Supreme Court. If he wins the election, Justice Nathaniel Howse would become the second African American man to be elected to the Illinois Supreme Court.
Meet Justice Jesse Reyes
In 2012, Justice Jesse Reyes (D) made history as the first Latino ever to be elected to the Illinois Appellate Court. Still serving the 1st District, 5th Division Appellate Court today, he is striving to make history once again as he pursues his dream of becoming the first Latino to become a Justice of the Illinois Supreme Court.
Growing up in Chicago's Pilsen and Bridgeport neighborhoods, Justice Reyes always knew he wanted to become an attorney - he just wasn't sure if the opportunity would ever present itself. In his interview with attorney Howard Ankin, Reyes states that lawyers provide a voice for people who can't speak for themselves.
"I'm someone who believes in public service. I think we need to have people on the bench who are in communication with people in their communities. Not just one community, but all communities" - Justice Jesse Reyes
His love for books led Reyes to be inspired by the struggles and achievements of presidents like Theodore Roosevelt and Abraham Lincoln. In adulthood, when his dream of becoming an attorney seemed elusive, those stories, combined with encouragement from his wife, pushed him to reach higher. When he obtained his law degree from John Marshall Law School in Chicago in 1982, Reyes had finally realized his dream.
Justice Reyes began his career as a plaintiff's attorney, working with a personal injury law firm in Chicago. He then worked at the City of Chicago's Corporation Counsel Office where he handled complex civil litigation. Later, he worked in the law department of the Chicago Board of Education, vetting reform policies and procedures. He was elected by his peers as an associate judge on the Circuit Court in 1997. In 2012, Reyes was elected to the 1st District, 5th Division of the Illinois Appellate Court where he serves today.
Throughout his career, Justice Reyes says his view has always been that the courtroom belongs to the people. He has received special recognition for his efforts in encouraging diversity in the courtroom. In a separate interview, Reyes stated that he remembers "what it was like growing up and not having a helping hand, not having role models of your own ethnicity and background."
Although March 17, 2020 is the Primary, early voting opportunities begin March 2nd and continue through March 16th. The Illinois Supreme Court is your court. Make sure your voice is heard.