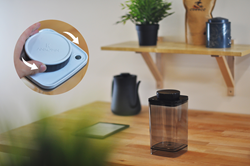 Revolutionary new vacuum storage Solution.
RIVERSIDE, Calif. (PRWEB) November 28, 2018
Ankomn recently introduced its line of easy Turn-N-Seal containers with patented technology for the North American market, after completing a successful global launch at Japan and Germany. Designed for simplicity and affordability, the Turn-N-Seal home food storage system is poised to meet all home and kitchen food storage needs.
Turn-N-Seal is a new approach to perishable food storage that uses a powerful but simple-to-activate vacuum seal. Unlike other vacuum seal systems on the market, Turn-N-Seal's special lids pull all the air from each container with a mere flick of the wrist.
After a turn of the dial, which forms a vacuum seal in a few seconds, food can be stored safely for an extended period. Whenever the container needs to be opened again a indicator, which is also a release valve, is pressed and releases the vacuum.
Using no pumps or batteries, food can be stored for up to six times longer than normal storage containers. The Turn-N-Seal containers prevent both air and moisture from getting access to the food stored inside, keeping food fresh and vegetables crisp. Most importantly, the vacuum could prevent Ochratoxin A from growing, not only preserving the flavor but also keep you healthy.
Turn-N-Seal is also useful for perishables that require peak freshness to retain their quality: like newly picked herbs, ground coffee, whole coffee beans or teas.
Easy Clean-Up
The special lid that creates the airtight seal can be disassembled into component parts for ease of cleaning, allowing removal of all particles and dust. Thus the containers can meet the highest hygiene standards while keeping the vacuum sealing technology in working order for thousands of uses.
Multiple Sizes color and Easy Storage
The Turn-N-Seal modular design comes in three different sizes, all manufactured to allow for vertical stacking. This saves valuable space, gives safe, secure storage, and allows for versatility and stacking inside cabinets or refrigerators.
Award Winning, Safe and Eco-Friendly

Turn-N-Seal is safe for a range of temperatures: from -25 degrees Celsius to 85 degrees Celsius.
The materials used to make each container are food safe and conform to SGS Food Laboratory standards.
Impact durable and impact resistant.
100 percent leak and odor proof.
BPA-free materials used in construction.
Eco-friendly manufacturing standards.
Winner of the iF Design Award and Red Dot Design Award.
Ankomn also plans to expand its vacuum technology to include more houseware products and will be showcasing at the 2019 Specialty Coffee Expo in Boston.
For more information, contact tom(at)ankomn.com.
We provide a test sample and giveaway campaign for influencer and their follower.
Email now and test the world most easy vacuum canister and see how it chance the storage industry.
About ANKOMN
Experts in excellence, Ankomn is a group of innovators who offer brand new technology and ideas for the home essentials market. With simple, elegant and functional creations, Ankomn designs are as beautiful to look at as they are to use. Offering both practicality and style, Ankomn often significantly redesigns familiar products that are long due for an upgrade. Learn more about Ankomn at http://www.ankomn.com.