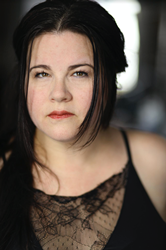 In an intimate setting, Ann Mahoney goes in-depth behind acting techniques utilizing her book, SLAP! Courage for the On-Camera Actor
LOS ANGELES (PRWEB) January 02, 2020
Ann Mahoney of AMC's The Walking Dead hosts two technique based acting class workshops for aspiring young talent in the arts and theatre program, including a book signing, at Azusa Pacific University January 10, 2020.
In an intimate setting, Ann Mahoney goes in-depth behind acting techniques utilizing her book, SLAP! Courage for the On-Camera Actor. The workshops are as follows:
Acting for Camera Workshop:
If you want to book more acting work, you need to understand the three most significant challenges facing on-camera actors when they audition. In this workshop, we will help you define your type, and then we will delve into the three challenge areas. We will practice both the art of the live audition and discover how to make your self-taped auditions stand out.
Suzuki Method of Actor Training Workshop:
The Suzuki Method of Actor Training, as developed by Tadashi Suzuki, is a holistic approach to mind, body, spirit, and voice training. Through the rigorous physical and vocal exercises, the actor's innate instinctual, or base animalistic energy, is awakened. The lower body moves powerfully, while the upper body remains free, causing the core to engage and balance the two. Deep attention to breath control and focus bring out the courageous nature that is essential to the actor being successful in the field.
Mahoney says, "I look forward to working with the young talent at APU, beginning the year with the opportunity to enrich the acting careers of the next generation is all I can ask for. I can't wait to get boots on the ground and begin the nationwide workshop tour!"
For bookings and availability, please contact Anna at anna@ovationpr.net.
About Ann Mahoney: Catching the acting bug at just four years old, she has since trail-blazed the way developing an impressive and extensive filmography. She is recognized for her role as Olivia in The Walking Dead has also played roles in films such as Bad Moms (2016), Sun Records (2017), 99 Homes (2014), Logan Lucky (2017), and The True Don Quixote (2018).