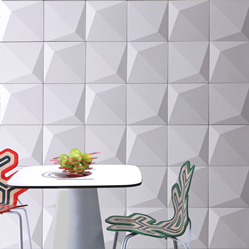 PORTLAND, Ore. (PRWEB) October 15, 2020
ANN SACKS began working with gifted product designer, Israel-based Itai Bar-On, in 2016, introducing the Itai Bar-On Collection of cement designs that pushed the material's normal boundaries in extraordinary ways. The subsequent introduction of the Pas Deco designs reinforced Bar-On's abilities of taking common cement and elevating it to an art form. These latest, three-dimensional designs bring the collection full circle, referencing back to some of Bar-On's earliest experimentations into the pliable, resilient nature of cement and the complexity of form that could be achieved when looking at the medium through a different lens.
From the time Bar-On was in graduate school, he began exploring the use of concrete in interior design. "The idea for the bending of concrete began as a concept to play with concrete as if it were a plasticine," said Bar-On. "I wasn't thinking of a tile when I did my research, the idea was to develop a method so I could do many things with it. The research was based on two things: The material and the mold. On one hand, I was trying to achieve the best formula for the concrete, and on the other, developing a unique mold that could combine perfectly with the material."
The new 12"x12" tiles – Arrow, Pyramid, Zed, and Gal – exhibit depth of dimensional quality with soft rounded corners and gentle coloration that seems to shift and move under the surface. The tiles are smooth to the touch, slightly honed with a bit of sheen that creates a reflective surface when light carries through a room. A proprietary technique was developed by Bar-On to maintain a smooth, unmarred surface without facial pits or inclusions to take away from its sculptural form. A complementing plain 12"x12" field tile is also offered by ANN SACKS and all are available in the collection's palette of White, Grey and Black colorways. The Itai Bar-On Collection is designed for interior feature wall applications and can withstand high heat, making it a perfect choice for a fireplace surround.
"This collection recalls back to some of my earliest studies into cement and its intriguing abilities, and my focus as a young designer to make an industrial product using geometric lines that would provide several looks and determine how it would interact within a room," said Bar-On. "The inspiration comes from basic geometry and computer software integration creating basic shapes that can only happen in 3D using the computer. For example, the "pyramid" appears to be a relatively simple tile where only the center rises, but in fact, there is not one straight surface. This gives each tile character, as does the light, how it reflects and refracts and meets the wall from different angles in a unique performance of shadow and light."
About Itai Bar-On
Itai Bar-On is a graduate of the Industrial Design Department of the Shenkar School of Design, Bar-On where, as part of his graduation studies, he explored the limits of working with concrete and placing the common material in a new context while stretching the acceptable boundaries of the matter. Awarded with the prestigious 2010 Designers' Award, Bar-On started to develop high-end design products and three-dimensional wall coverings from cement. Standing behind this innovative technology of FREE CONCRETE,
Bar-On set up a boutique studio eight years ago creating objects with a feeling of lightness and movement, which contrast and defy the preconceptions of heavy weight material. Bar-On's works continue to demonstrate his abilities and seen in many designed spaces in Israel and worldwide.
About ANN SACKS
Founded in 1981, ANN SACKS has built its reputation with inspiring designs in tile, stone, plumbing, lighting and accessories. Based in Portland, Ore., the company, along with sister brands, KALLISTA plumbing, Robern mirrored cabinetry and vanities, and KOHLER Lighting, is a division of the Kohler Co. Decorative Products Group, and a wholly owned subsidiary of Kohler Co.
About KOHLER®
Founded in 1873 and headquartered in Kohler, Wis., Kohler Co. is one of America's oldest and largest privately held companies. Kohler is a global leader in the manufacture of kitchen and bath products, engines and power generation systems, cabinetry, tile and home interiors, and international host to award-winning hospitality and world-class golf destinations.
For additional information regarding the Itai Bar-On Collection or other ANN SACKS products, consumers can call toll-free 1-800-278-TILE or visit the ANN SACKS website at http://www.annsacks.com.