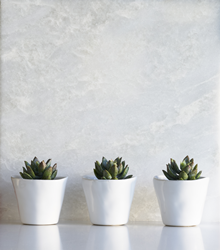 PORTLAND, Ore. (PRWEB) October 29, 2020
ANN SACKS, renowned for its luxury marble category, unveiled Bianco Montcarte, a translucent white marble interrupted by creamy references, its coloration reminiscent to that of fine alabaster. Exclusive to ANN SACKS, Bianco Montcarte is a crystalline stone of remarkable purity in color with a soft tonal quality that is warm and inviting. The rare color of the stone is what drew ANN SACKS to Bianco Montcarte, its almost snow white shading exhibiting an elegance and sophistication to rival some of the finest marbles in the marketplace today. Bianco Montcarte is an in-stock program with a one to two week lead time making it an excellent candidate to meet the tightest of deadlines.
Bianco Montcarte is expertly hand-cut, with the field tile finished in a slight beveled edge detail, and hand-buffed to a softly brushed finish. Bianco Montcarte is available in 3"x6", 16"x16", or 12"x24" field tiles and a 30"x72" slab. Suitable for all indoor commercial and residential wall and medium duty flooring and wet areas, Bianco Montcarte is also not affected by freeze/thaw conditions, making it perfect for memorable outdoor wall installations.
Variation to Bianco Montcarte's snowy white composition is very minimal with most of the veining moving from pure white to translucent in range. To keep Bianco Montcarte beautiful for years to come, ANN SACKS recommends that it be sealed with a penetrating sealer at the time of installation and occasional cleaning and resealing of the tile.
About ANN SACKS
Founded in 1981, ANN SACKS has built its reputation with inspiring designs in tile, stone, plumbing, lighting and accessories. Based in Portland, Ore., the company, along with sister brands, KALLISTA plumbing, Robern mirrored cabinetry and vanities, and KOHLER Lighting, is a division of the Kohler Co. Decorative Products Group, and a wholly owned subsidiary of Kohler Co.
About KOHLER®
Founded in 1873 and headquartered in Kohler, Wis., Kohler Co. is one of America's oldest and largest privately held companies. Kohler is a global leader in the manufacture of kitchen and bath products, engines and power generation systems, cabinetry, tile and home interiors, and international host to award-winning hospitality and world-class golf destinations.
For additional information regarding Bianco Montcarte or other ANN SACKS products, consumers can call toll-free 1-800-278-TILE or visit the ANN SACKS website at http://www.annsacks.com.