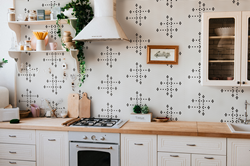 PORTLAND, Ore. (PRWEB) October 27, 2020
The Kodra Collection from ANN SACKS is a new glass mosaic series that features a range of designs that speak to traditional and contemporary tastes. With a palette rich in pure, saturated color and six patterns that are exclusive to ANN SACKS in the U.S., these intricate designs can be mixed and matched to create custom installations. Each are expertly crafted from 98 percent recycled glass, which also makes the Kodra Collection an ecologically thoughtful choice.
A playful tapestry of micro-hexagon and slightly rounded penny shaped pebbles of recycled glass are laid-up in complex patterns to form the six distinctive mosaics:

Kodra Mod: The 12"x12" design features a simple single field centered by a contrasting series of horizontal and vertical lines in Charcoal with Cloud or Cloud with Flint;
Kodra Pane: The 14"x14" geometric design features a field inlaid with a repeating diamond motif in Cloud with Flint, Cloud with Smoke or Flint with Cloud;
Kodra Cross-Stitch: The 10"x18" is an intricate geometric interplay that carries across the face of the file in Cloud with Flint or Cloud with Smoke;
Kodra Concentric Hex: Against a Cloud field, the 14"x11" features repeating Hex patterns emphasized by a single Hex design in a deeper shade to create a playful, visual shift offered in Cloud, Smoke and Flint, Cloud, Sky and Denim, or Cloud, Flaxen and Coal;
Kodra Plus: A contemporary tile that features fields of Cloud and Charcoal broken by a graphic line of contrasting color in Charcoal or Cloud; and,
Kodra Kilim: This 12"x12" mosaic appoints a stylized arrowhead at the tile's four corners as its decorative elements on a field of Cloud with contrasting Charcoal and Smoke or Denim and Aegean colorways.
Kodra is a versatile choice, suitable for residential and commercial indoor and outdoor wall and flooring installations. Due to its abilities to withstand high temperatures and submerged areas, and not being affected by freeze/thaw conditions, it is also an excellent candidate for behind-the-range and fireplace surrounds, outdoor kitchen walls and countertop surfaces, shower walls, pools and fountains. Kodra is an in-stock program with a one to two week lead time, also making it perfect fit for installations with tight turn-around times.
About ANN SACKS
Founded in 1981, ANN SACKS has built its reputation with inspiring designs in tile, stone, plumbing, lighting and accessories. Based in Portland, Ore., the company, along with sister brands, KALLISTA plumbing, Robern mirrored cabinetry and vanities, and KOHLER Lighting, is a division of the Kohler Co. Decorative Products Group, and a wholly owned subsidiary of Kohler Co.
About KOHLER®
Founded in 1873 and headquartered in Kohler, Wis., Kohler Co. is one of America's oldest and largest privately held companies. Kohler is a global leader in the manufacture of kitchen and bath products, engines and power generation systems, cabinetry, tile and home interiors, and international host to award-winning hospitality and world-class golf destinations.
For additional information regarding the Kodra Collection or other ANN SACKS products, consumers can call toll-free 1-800-278-TILE or visit the ANN SACKS website at http://www.annsacks.com.