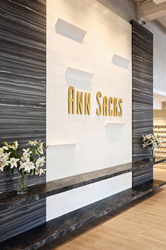 The showroom is where we connect most deeply with our customers," said DeeDee Gundberg, director, product development and design.
PORTLAND, Ore. (PRWEB) November 03, 2021
ANN SACKS, an industry leader in luxury tile and stone, is pleased to announce the reopening of ANN SACKS San Francisco at 2 Henry Adams Street, Suite 125, San Francisco, CA 94103, phone (415) 252-5889. Located in the San Francisco Design Center, the newly redesigned showroom is the first of a series of ANN SACKS showroom renovations that will span over the next several years, offering customers a new way to experience the full breadth of products in a service-oriented, interactive environment. In addition to ANN SACKS San Francisco, renovations at ANN SACKS Los Angeles and Orange County, Calif. showrooms are now underway.
The ANN SACKS San Francisco redesign is based upon a new merchandising and sales model, which represents months of planning and development by ANN SACKS that culminated in an innovative blueprint designed to elevate the client experience across all showrooms. "The showroom is where we connect most deeply with our customers," said DeeDee Gundberg, director, product development and design. "We wanted to heighten that connection by offering our clients to experience our products and brands in a way they will not anywhere else. This was the foundation upon which the entire concept was built."
Customers will enjoy a full range of products by ANN SACKS, and sister luxury brands, Robern and KALLISTA. In addition to existing collections, new vanities, linen cabinets, and decorative mirrors by Robern, exclusive designs from KALLISTA plumbing, and select KOHLER Lighting designed exclusively for the showroom channel, will also be on display to inspire creativity at every turn.
Presented in a gallery like setting, ANN SACKS San Francisco, sits within the heart of the San Francisco Design District, a renowned destination for trade and design-minded consumers for over a century. Featuring banks of windows in the front of the building to provide ample, natural light and an open floor plan to allow smooth traffic flow and unobstructed views of the designs, ANN SACKS San Francisco presents an active, engaging environment with all the tools, and an experienced sales staff, to seamlessly take a project from concept to reality down to the smallest detail.
The red bricked showroom exterior with its expanse of soaring 18' mullioned windows carry across the street level entry of ANN SACKS San Francisco and provides a first glimpse of the redesign starting with an open, lobby style retail lounge. Floor to ceiling, marble wrapped piers are layered with smaller tile panels adding dimension and textural effect, while also presenting a unique way to introduce visitors to its impressive range of natural stones. The reception area also includes comfortable seating, a pair of bistro style tables with chairs, and a full display of the latest brand collateral and collection information.
Opening up the larger showroom area was significant to the redesign with a floor plan that encourages exploration and a smooth traffic flow for visitors to access and engage easily with the products featured throughout the space. Pivotal within the showroom is the new ANN SACKS Design Studio, a one-stop, fully equipped hub of activity, thoughtfully organized to bring all the tools needed into one central location. Spacious Calcatta Zebrino marble worktables with plenty of seating are surrounded by walls of white racking that holds approximately 650, 14"x14" tile designs, and built-in cabinetry that house 72, 23"x51" floor pads, the larger format helping customers to better visualize how the tile will appear in a room. The sample shop, which had been located off the showroom floor, is now a part of the Design Studio to keep the creativity flowing without interruption. Magnetic mood boards designed to inspire, will be consistently updated to showcase the very latest market trends. The Design Studio will also offer basic paint, cabinetry, and finish samples to better realize a project's potential from a more holistic point-of-view.
In addition to the smaller vignettes, there will also be larger, in-house designed suites including a fully working bathroom, two kitchens, two fireplaces, and the first reveal of the seven inspiration suites behind ANN SACKS new immersive merchandising program, which will be introduced on a national scale in September 2021. Most products selected for the program's traditional and contemporary bathrooms are new to the marketplace. Created by a talented team of designers from
ANN SACKS, Robern and KALLISTA, the interiors nod to pivotal eras that have influenced or changed the face of 19th and 20th century design and influential, emerging trends within the global marketplace.
To keep the showroom au courant, a clip wall system was chosen for easier space and vignette redesigns and alleviating the interruption, fuss, and expense required with seasonal rebuilds. Other thoughtful touches with the consumer in mind include a combination of state-of-the-art, 90-percent low-energy LED track, recessed and linear down lighting to complement the abundant natural light, and cozy chairs, conversation seating, and additional worktables, which are conveniently situated throughout the space.
Download Images
About ANN SACKS
Founded in 1981, ANN SACKS has built its reputation by offering the finest in tile and stone. Based in Portland, Ore., the company is a wholly owned subsidiary of Kohler Co., along with sister luxury brands, Kallista plumbing and Robern mirrored cabinets and vanities.
About KOHLER CO.
Founded in 1873 and headquartered in Kohler, Wisconsin, Kohler Co. is one of America's oldest and largest privately held companies comprised of more than 38,000 associates. With more than 50 manufacturing locations worldwide, Kohler is a global leader in the design, innovation and manufacture of kitchen and bath products; luxury cabinetry, tile and lighting; engines, generators, and clean energy solutions; and owner/operator of two, five-star hospitality and golf resort destinations in Kohler, Wisconsin, and St. Andrews, Scotland. Kohler's Whistling Straits golf course recently hosted the 43rd Ryder Cup. The company also develops solutions to address pressing issues, such as clean water and sanitation, for underserved communities around the world to enhance the quality of life for current and future generations. For more details, please visit kohlercompany.com.
For additional information regarding ANN SACKS San Francisco Showroom Opening, or the
ANN SACKS and sister brands' product offerings, consumers can call toll-free 1-800-278-TILE or visit the
ANN SACKS website at http://www.annsacks.com.