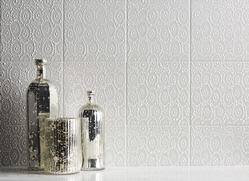 PORTLAND, Ore. (PRWEB) October 20, 2020
ANN SACKS unveiled four new patterns to its Savoy Collection, one-of-a-kind works of art that employs the ancient technique of Japanese silk screening to create the decorative, repeating patterns. The origins of Japanese silk screening can be traced as far back as 900 A.D. where the delicate art of creating and transferring patterns has been passed down over the generations. The new Savoy designs – Circles, Flowers, Lines and Triangles – feature the organic beauty and slight irregularities that occurs as part of the hand-screening process. Set against a backdrop of unglazed cool white, the resulting tile is an intricate field of small, repetitive slightly raised patterns, hand-screened in glossy white Japanese glaze that is breathtakingly beautiful in its simplicity.
ANN SACKS Savoy Collection is one of the most successful, longstanding collections within the company's design repertoire, its flexible nature, modest price and range of remarkable Japanese glazes, has made Savoy a darling among consumer and trade audiences. With its 21 percent recycled content, it continues to build upon the company's ever-increasing, eco-friendly tile and stone categories.
Savoy is an in-stock program that has a wide range of field tiles, mosaics and trims for a professional, finished installation no matter the size or configuration of the space. Its porcelain clay body is the perfect medium for the collection's interactive glazes that include shades that break and pool for a one-of-a-kind handcrafted finish. Custom color options and mosaics are available by special order.
Savoy will add charm and character to all indoor wall applications and light- to medium-traffic flooring depending upon the shade selected. Savoy can take on the outdoors with ease and is not impacted by freeze/thaw conditions. Its composition also makes Savoy the perfect choice for wet areas including showers, pools and fountains.
About ANN SACKS
Founded in 1981, ANN SACKS has built its reputation with inspiring designs in tile, stone, plumbing, lighting and accessories. Based in Portland, Ore., the company, along with sister brands, KALLISTA plumbing and Robern mirrored cabinetry and vanities, is a division of the Kohler Co. Decorative Products Group, and a wholly owned subsidiary of Kohler Co.
About KOHLER®
Founded in 1873 and headquartered in Kohler, Wis., Kohler Co. is one of America's oldest and largest privately held companies. Kohler is a global leader in the manufacture of kitchen and bath products, engines and power generation systems, cabinetry, tile and home interiors, and international host to award-winning hospitality and world-class golf destinations.
For additional information regarding Savoy Insho, the Savoy Collection, or other ANN SACKS products, consumers can call toll-free 1-800-278-TILE or visit the ANN SACKS website at http://www.annsacks.com.