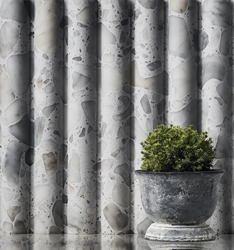 PORTLAND, Ore. (PRWEB) October 21, 2020
ANN SACKS unveiled an extraordinary fluted tile to the Terrazzo Renata Collection, which made its debut in 2018 with subsequent introductions in 2019 and in February 2020. Fluted is a classic design that marries the charm of Old World terrazzo with the advances of 21st century technology to create a tile of uncommon beauty that is at once timeless and of the moment.
Fluted begins as a slab, the cool white stone field inlaid in a combination of varying white and light grey stones. The surface is then fluted using CNC technology and hand-finished to remove any imperfections and giving the tile face a consistent look and velvety hand.
Fluted joins the Terrazzo Renata earlier designs of sophisticated color choices in Black, White, Aubergine, Brulée, and Grigio Carnico. Hailing from Italy, Terrazzo Renata puts a thoroughly modern spin on traditional terrazzo tiles, while remaining true to its roots. Terrazzo Renata includes marbles from the famed Carrara quarries, its stone combination selected for its fine variation in size, composition and coloration.
Fluted is offered in a 12"x12" field tile and with its striking fluted detail and brushed finish a statement-making choice for large scale commercial and residential wall applications. Competitively priced and in-stock, Terrazzo Renata can meet the demands of even the most aggressive budget and deadline.
About ANN SACKS
Founded in 1981, ANN SACKS has built its reputation with inspiring designs in tile, stone, plumbing, lighting and accessories. Based in Portland, Ore., the company, along with sister brands, KALLISTA plumbing, Robern mirrored cabinetry and vanities, and KOHLER Lighting, is a division of the Kohler Co. Decorative Products Group, and a wholly owned subsidiary of Kohler Co.
About KOHLER®
Founded in 1873 and headquartered in Kohler, Wis., Kohler Co. is one of America's oldest and largest privately held companies. Kohler is a global leader in the manufacture of kitchen and bath products, engines and power generation systems, cabinetry, tile and home interiors, and international host to award-winning hospitality and world-class golf destinations.
For additional information regarding Terrazzo Renata Fluted or other ANN SACKS products, consumers can call toll-free 1-800-278-TILE or visit the ANN SACKS website at http://www.annsacks.com.