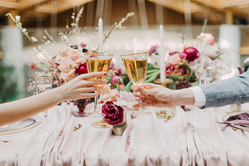 Event planners will still face challenges in 2021. Making your guests feel safe will be the first priority. Thinking outside the box to create an unforgettable event while incorporating social distancing, face masks and handsantizer is acheivable with these 2021 event tips. - Anna Hess
DELRAY BEACH, Fla. (PRWEB) November 19, 2020
Planning the perfect event takes time… which means that now is the time to schedule and plan your 2021 events! Whether you're planning a wedding, hosting a Golden Anniversary celebration, coordinating a corporate fundraiser or scheduling a bat mitzvah, it's time to book the date and start planning the details.
My Top 10 Event Trends I Predict for 2021
Here are my top food and venue 2021 event trends and tips that will take your big day to the next level!

Locally grown and seasonal foods, ingredients and floral decorations are important to many consumers. Farm to Table, or Farm to Fork, is buying food directly from local farmers without going through a 3rd party distributor. Talk to your event caterer to plan a menu that celebrates local agriculture and supports the local economy.
Individuals and businesses are recognizing the need to become more eco-friendly and taking measures to reduce their carbon footprint and negative impact on the environment by emphasizing sustainability. Weddings, meetings, conferences, celebrations, charity events, fundraisers, board meetings, product launches – any type of event can be a sustainable event.
Corporate Social Responsibility (CSR) events can benefit local or national non-profits with activities such as silent auctions, in-kind or matching donations, bridal money dances or money trees and other ways to benefit your designate charity.
Today's health-conscious consumers are avoiding buffets and self-serve food and drink options at events. Single-serve passed hors d-oeuvres and sit down dinners with fewer guests per table
In 2021 your event staff should be wearing face masks at small and large gatherings, and as well as your guests. Instead of paper masks or the guests and staff's own masks, work with your event planner to create branded face masks that celebrate your special event:
A💙H 1/1/21
Spread Love Not Germs
Smiling For A Cause
#BrandiBridalSquad
It's A Girl!

Event safety isn't limited to single-serve food and face masks. The health and safety of your guests and the venue staff are important to everyone. Help everyone protect their health by providing hand sanitizers in convenient locations for your guests and the venue team, require all food servers to wear a mask and gloves and make sure your venue has plenty of room for guests to social distance whether at a table or while mingling. A 60-inch table seats 6 to 8 people while allowing them to stay 6 feet apart.
An assortment of specialty food trucks at your event is both fun and creative! You can book a variety of food trucks offering everything from appetizers to main dishes to desserts, and your guests can choose their meal while the food trucks handle all the details. Don't forget to set-up social distancing lines outside of each truck so your guests can easily stay safe while waiting.
It's not enough anymore that you host an event, in 2021 events must incorporate memorable experiences for your guests. Whether there's a charitable component to your events such as a live auction, exciting entertainment, a creative venue or a gourmet experience, deliverable an unforgettable experience for your attendees.
Technology has made it very easy to automate your event marketing. Personalizing your event creates a custom experience for each guest with everything from invitations to SWAG to keepsakes will keep your attendees talking about your big day long after it's over.
After an unprecedented 2020, more event hosts are realizing that not everyone who wants to attend their event can. Creating virtual events or hybrid events with both a live and an online component lets more people participate even if they can't attend in person.
Designing and executing a memorable event is hard work, takes a lot of time and can be very stressful. An experienced event planner is your secret weapon to make sure your special day goes smoothly. Whether you need to hire a full-service, start to finish planner to see to every detail, or you need an expert to handle one aspect of your event, an experienced event planner can save you time, money and stress!
Learn more on my blog - https://annahessevents.com/🎶lets-give-them-something-to-talk-about🎶-2021-events-trends-tips/