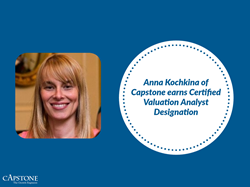 TYSONS CORNER, Va. (PRWEB) September 14, 2020
Capstone Strategic, Inc., a leading advisory firm specializing in not-for-sale, strategic mergers and acquisitions (M&A), is pleased to announce that Anna Kochkina (Manager, Capstone) has successfully earned the designation of Certified Valuation Analyst (CVA®), from the National Association of Certified Valuators and Analysts(NACVA®).
"Capstone congratulates Anna on her well-deserved achievement. Earning this credential is a testament to Anna's diligence and dedication to high-quality analysis. As a CVA, she will bring increased expertise to the Capstone team and our clients. Her experience in financial analysis and valuation augments Capstone's robust capabilities in delivering holistic M&A services from strategy development to deal execution," said David Braun, CEO of Capstone.
Anna is an accomplished financial professional with nearly 20 years' experience in domestic and international markets. She joined Capstone in 2016 as a Senior Analyst. Her work experience encompasses many markets including credit unions, CUSOs, consumer goods, healthcare, retail, chemical, telecommunications, metal and mining, utilities, and aerospace. She has expertise in valuation, financial modeling, corporate financial risk, M&A, investment banking and equity research.
Originally from Russia, Anna received her MBA in Finance from American University in Washington, D.C., and her BA from Rowan University in New Jersey.
About National Association of Certified Valuators and Analysts
NACVA is a global, professional association that delivers training from leading experts in consulting fields such as business valuation, financial litigation forensics, business fraud, and mergers and acquisitions. NACVA's globally recognized CVA designation is the most widely recognized business valuation credential and the only business valuation credential accredited by the National Commission for Certifying Agencies
(NCCA®). Through training and rigorous testing, CVAs demonstrate that they are qualified to provide capable and professionally executed valuation services. The certification process consists of two parts: a five-hour proctored exam and a case study. The 60-80 hour sample case study provided by NACVA requires the completion of a comprehensive business valuation report.
About Capstone Strategic, Inc.
Capstone Strategic is a management consulting firm located outside of Washington, DC specializing in corporate growth strategies, primarily Mergers & Acquisitions for the middle market. Founded in 1995 by CEO David Braun, Capstone has facilitated over $1 billion of successful transactions in a wide variety of manufacturing and service industries. Capstone utilizes a proprietary process to provide tailored services to clients in a broad range of domestic and international markets.