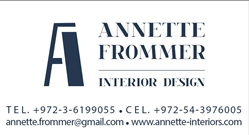 RAMAT GAN, Israel (PRWEB) March 16, 2022
Annette Frommer Interior Design is thrilled to announce the launch of its new website.
Annette Frommer Interior Design is an Israeli based firm, serving a wide international clientele. Founded by famed designer Annette Frommer, the studio's mission is to consistently provide beauty, harmony and a sophisticated design aesthetic, in accordance with customer taste.
With over two decades of successful design experience, Annette and her team provide a personal and select service. The firm believes that design is intimately tied with functionality, place and client aspirations, as well as cultural traditions.
The new website offers a modern and clean design. It is easy to navigate, quick and showcases some of the firm's most outstanding projects. Through this launch and future growth of the new website, Annette Frommer Interior Design endeavors to be a leader in interior design and to continue delivering functional and insightful design solutions that are fully bespoke.
"It was time to update our website," remarked Frommer. "I believe that the new look and feel of our website better showcases what we are about and the diversity in styles that is available today in interior design. Our newest projects, soon to be uploaded, will confirm and verify this".
The new website goes to show that Annette Frommer Interior Design is at the forefront of exquisite taste, technical design solutions and the delivery of excellence in interior design projects.
###