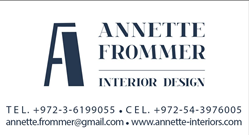 RAMAT GAN, Israel (PRWEB) December 18, 2020
Annette Frommer Interior Design has announced that the studio has been commissioned to plan and design all public spaces of a new residential project in the heart of Jerusalem, scheduled to be completed in 2023.
This new project will be the first high-end luxury residential tower built right in the heart of Jerusalem, positioned close to the captivating and buoyant Rehavia neighborhood, and within walking distance from some of Jerusalem's most iconic landmarks and parks. The project, appropriately named 'Jerusalem Spirit', will offer spectacular panoramic views of the Old City, the encompassing Jerusalem hills, and of some of the city's finest neighborhoods.
This is the first project of its kind, located right at the intersection of Jerusalem's spiritual and cultural hub. This is urban living at its finest. The project offers many pampering amenities and includes 200 luxury apartments, as well as a selection of expansive duplex apartments and penthouses. All apartments include state-of-the-art amenities, lavish bathrooms and deluxe kitchen fixtures.
During the past three decades, the studio has specialized in planning and designing high-end residential interiors. This is the first time that the studio is undertaking the planning and design of public spaces.
Born, raised, and educated in Belgium, the studio's founder Annette Frommer's work is influenced by European culture, elegance, and sophistication. She uses her extensive knowledge and expertise to provide her clients with an unparalleled level of professional service and creates unique interiors. Frommer places emphasis on detail and uncompromising high standards when commissioning furniture, planning the joinery and improving the layout of the space.
Her command of six languages has been a major asset with her worldwide clientele.
It is Hadas Capital, a leading real estate investment and development company specializing in inspirational, high-end residential and commercial projects across Israel, that has chosen Annette Frommer Interior Design to plan and design the all-important public areas of the project. She will also be planning the penthousesfor private clients.
"I am honoured to partner up with Hadas Capital in planning and designing the public areas of Jerusalem Spirit," said Frommer in response to the news. "These areas, namely the entrance, lobby, lounges, front desk, guest corridors, elevators, and other leisure areas, are of utmost importance in any project." According to her, people love to have beauty all around them and she plans on incorporating striking elements into the construction of the spaces.
Frommer embraces flowing areas that are impressive yet welcoming and functional at the same time. As she says "Design is intimately tied to practicality, space and client aspirations, as well as to cultural traditions".
As always, she expects her highly refined style to characterize this project. As she concluded, "I am thrilled to join hands in this incredible journey. My design will exude a great sense of spiritual serenity, and I plan on combining oriental features with meticulous yet understated contemporary luxury. In this project, I hope to reflect the sacred history and ambiance of Jerusalem".
###