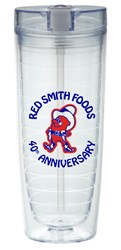 We wanted to share the celebration with the people who helped make it possible.
Fort Lauderdale, FL (PRWEB) December 05, 2013
Red Smith Foods has announced the launch of a contest to help celebrate its 40th anniversary. The company wants to show appreciation to the consumers who have been such loyal followers and helped make the company one of the leading pickled snack food companies.
To commemorate the occasion, Red Smith Foods has produced a limited edition tumbler with a special "Red Smith Foods 40th Anniversary" logo. Fans will be invited to enter via the company's Facebook page. Entrants will tally up points used to determine the winner by signing up for the Red Smith Foods email newsletter, liking the company's Facebook and Twitter pages and tweeting about the contest.
"We wanted to share the celebration with the people, who helped make it possible our extremely loyal and passionate consumers," said Red Smith Foods Director of Sales, Brian Burton. The company also plans to give away some of their new Big John's Red Hots pickled sausages and Big John's pickled eggs single serve items as part of the promotion. Both of these items are currently available in retail stores across the Southeastern United States.
About Red Smith Foods
Since 1973, Red Smith Foods has earned a reputation for producing the finest quality pickled snacks in the industry. For over 35 years we have been a staple item in grocers, convenience stores, and distribution centers. Family owned and operated for 2 generations, our focus has and will always be on producing the highest quality product for our customers.