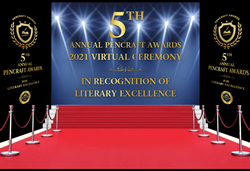 The words, "I couldn't put it down." "That's the best compliment an author can receive."
HOUSTON (PRWEB) November 05, 2021
The 2021 PenCraft Book Awards for literary excellence recognizes 74 remarkable literary works in numerous categories for this year's competition. Each year the PenCraft Book Awards organization honors the top three authors with cash prizes to acknowledge their accomplishments. Tricia O'Malley's "One Way Ticket," published by Lovewrite Publishing, was voted Best Book of the Year. Destined to Die Young by Sally Hoedel and published by Elvis Author won the best nonfiction book for 2021. The book voted as the 2021 Best Fiction of the Year was Jeffrey James Higgins' Furious: Sailing into Terror, published by Black Rose Writing.
Tricia O'Malley's work of fiction, One Way Ticket, won the Best Book of the Year award for 2021. Lovewrite Publishing, LLC, published it. The book is escapism at its finest – a funny and captivating beach read where booking a one-way ticket to paradise means starting over, letting go, and taking a chance on love. O'Malley stated, "One Way Ticket is best, paired with a side of tequila. And I hope it sends the readers on a delicious ride through the inner workings of this run-down island resort where love is often a game, tensions arise between the staff, and each sunset is an excuse for one more party."
As the author of the bestselling Mystic Cove, Siren Island, and Althea Rose series, O'Malley delights in taking the reader on romantic adventures set in breath-taking locations. Originally a native of Wisconsin, she departed the wintry tundra for warmer locales five years ago. O'Malley stated, "Since childhood, I have been drawn to the ocean and scuba-diving. These loves landed me on a tropical island in the Caribbean." Fascinated by island life, O'Malley channels the joy and frustrations of living on a tiny rock in the Caribbean into her work. On any given day, you'll find her lost in the worlds of her own creation or deep underwater, where she takes great joy photographing the stunning sea life.
As a NY Times, USA Today, and WSJ bestselling author, Tricia O'Malley's infectious joy in writing romance with an added dash of sparkles has won over readers worldwide. O'Malley's stories have been translated into several languages and enjoy a devoted following with over three million books read.
The winner of the PenCraft Book Awards' 2021 Best Nonfiction Book of the Year was Sally Hoedel's Destined to Die Young. Grappling with and creating a holistic picture of a music legend such as Elvis Presley is no small task, but Hoedel has made a meticulous and intelligently crafted contribution. Larry Geller – Elvis' personal hairstylist, friend, and spiritual mentor stated, "Frida Kahlo once wrote, 'I paint flowers so they won't die' – so too, your wonderfully well-rounded book will remain as a seminal addition to the story of Elvis Presley, eclipsing most of the others."
This compassionate look at Elvis, through Hoedel's lens, paints a broader image of the man himself and gives his fans a breather from the media's assumption that he was simply a victim of prescription drug abuse. The author captures the essence of Elvis' psychology and his drive to provide despite his physical limitations. Let the takeaway be a more profound understanding for the trailblazing entertainer who was so popular he was known the world over by his first name only, Elvis.
Sally Hoedel stated, "I wrote this book because I genuinely believe this is a story that Elvis would want to be known. He needed to be a strong American male while he was alive, and he hid his pain and his body's weaknesses. Yet, he always knew he was just like everyone else: human. I believe he would be okay with everyone now understanding just how human he was. He struggled with health issues and pain, but he didn't quit. My hope for my labor of love is that it makes readers stop and think about Elvis just a little bit differently. He deserves it."
Sally A. Hoedel is from Northern Michigan and is a lifelong Elvis fan and historian with a journalism degree from Michigan State University. She is also a co-owner of Character Development and Leadership, a curriculum business.
Jeffrey James Higgins is the recipient of the PenCraft's Fiction Book of the Year award with his psychological high seas thriller, "Furious: Sailing into Terror." There's something about psychological suspense—whether it's a killer at-large or a cryptic investigation with plenty of twists and turns—that attracts thriller readers every time. Higgins' Furious: Sailing into Terror is one of those books. He weaves his female protagonist, Dagny Steele, into a complex and compelling visceral thriller. Dagny Steele has to live through a transformational struggle to survive an unthinkable terror on the high seas.
Higgins certainly has the credentials to write thriller novels; he is a retired supervisory special agent who has fought the Taliban in combat, wrestled a suicide bomber, and chased terrorists across five continents. He is also a former reporter and a recipient of both the Attorney General's Award for Exceptional Heroism and the DEA Award of Valor.
Higgins stated, "I spent the majority of my law enforcement career chasing terrorists, drug traffickers, and transnational criminals, and I relied on that experience to write about life-and-death situations."
The words, "I couldn't put it down." "That's the best compliment an author can receive," Higgins said.
Jeffrey has been interviewed by CNN, New York Times, Fox News, Investigation Discovery, Declassified, and USA Today and received numerous literary awards.
Tricia O'Malley, Sally Hoedel, and Jeffrey James Higgins are our three headliners. This year, we will also be honoring multiple other great writers who have won a PenCraft Book Award and honors from other literary competitions.
In a year of tremendous sacrifice, both health-wise and financially for so many, we're proud to be able to offer money and not just words to honor the accomplishments of our top winning authors. The PenCraft Book Awards policy makes payments directly to the winning authors and not the publisher or agents.
The PenCraft Book Award competition strives to give all authors an equal opportunity to promote their works to the reading public. Our goal is to make our competition inspiring, fun, and open to all authors. The PenCraft Book Award's competition receives hundreds of nominations for awards, but only a small percentage wins. Our winners are the best. We hope to continue being a conduit to introducing new authors and fantastic new books to the reading public.
The Covid-19 issue has resulted in the 2021 PenCraft Book Award ceremony being held as a virtual event this year. A date for the event has not yet been set. For further information, please contact David Hearne, 409-656-4625.