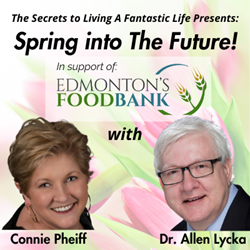 To help attendees take back their lives and reclaim happiness is critical as we begin to recover from this painful pandemic.
EDMONTON, Alberta (PRWEB) April 08, 2021
It is time for fun, laughter and renewal as spring is here. This Spring into The Future fundraiser for Edmonton's Food Bank has what people need right now, to move forward from the pandemic and into the post-Covid era. With both co-hosts having survived near-death there is much to share and attendees will laugh and learn into the evening. Seanna Collins, broadcaster and spokesperson will emcee the event. Draw prizes include a vintage autographed Wayne Gretzky 99 NHL jersey. Music and comedy provided by Martin Murphy, lead singer for PreTenors, will bring Paparazzi on the Rocks. Co-hosts Dr. Allen Lycka and Connie Pheiff will bring stories and advice everyone needs to be unstoppable and find happiness again!
"I can't wait to share some of the metaphorical golden pearls including laughter; I learned along my journey how deeply important it is and how healing it can be when overcoming adversity," says Dr. Allen Lycka. "To help attendees take back their lives and reclaim happiness is critical as we begin to recover from this painful pandemic."
Help is on the way. "I'm elated to co-host the Spring into the Future fundraiser. It is my privilege to join an incredible team and present alongside Dr. Lycka to raise much-needed dollars for the Edmonton's Food Bank. This organization exudes passion, purpose and is committed to making a significant impact in their community," says Connie Pheiff.
Edmonton's Food Bank is working with GiveAMask.ca to make sure people have access to reusable masks during the pandemic. Many people have been hit hard financially and there are added costs to staying safe during COVID-19, notably, masks are needed for everyday life activities.
"We are grateful for Dr. Lycka and Connie Pheiff and their decision to support Edmonton's Food Bank. We rely on donations from the general public to help us serve our neighbors in need, and now, because of the pandemic, provide tools for staying safe, like masks for those struggling with poverty," says Tamisan Bencz-Knight, Manager of Strategic Relationships and Partnerships, at Edmonton's Food Bank. "We look forward to the fun while sharing more about the work of Edmonton's Food Bank."
Event information: May 6, 2021 from 7:00 PM to 9:00 PM MDT, virtual Zoom event, all information and $10 ticket purchase can be found on Eventbrite here.
About Dr. Allen Lycka
Dr. Allen Lycka was acknowledged as one of the leading cosmetic dermatologists in the world for three decades. Now the creator and host of How to Live A Fantastic Life, he's a 3x bestselling author including the title, The Secrets to Living A Fantastic Life. A TEDx speaker and international keynote speaker Dr. Lycka has been featured on hundreds of podcasts, CBC, Global News, CTV News Channel and in print online and off. Learn more by visiting http://www.drallenlycka.com.
About Edmonton's Food Bank
Edmonton's Food Bank provides food to over 20,000 people through our hamper programs every month. Edmonton's Food Bank receives no core funding for food purchases or operations from any level of government and relies on the generosity of the community and food industry partners to assist those in need in Edmonton. For more information, please visit http://www.edmontonsfoodbank.com.
About Connie Pheiff
The Board Chair and Founder, Pheiff Group, Inc. Pheiff is the creator and host of the award winning Connie Pheiff Show, and hosts the Connie Pheiff Show TV with C-Suite Network. As the author of the bestselling Marketing Masters, Pheiff is also the founder of You are the Brand®, and Talent Concierge. Learn more about Connie and these programs at http://www.conniepheiff.com.