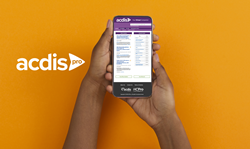 ACDIS PRO. is truly the digital companion for every CDI professional.
BRENTWOOD, Tenn. (PRWEB) November 02, 2020
HCPro is proud to announce the launch of ACDIS PRO (Pocket Resource Online), a new online tool for CDI professionals. Just like the popular printed ACDIS Pocket Guide, it is available in three versions: inpatient, outpatient, and coding. It provides CDI professionals with the valuable content they are accustomed to viewing in the printed book coupled with an enhanced online experience, including smart search technology, real-time updates, customization tools, and more.
ACDIS Director Brian Murphy says, "Our ACDIS membership was involved in the creation of the online tool every step of the way, providing their feedback on how they wanted it to look and function. They even came up with the name! We recently ran a contest, and Leah Hegwood from Skagit Valley Hospital was the winner with the name ACDIS PRO."
The ACDIS PRO online tool has a Web-responsive design that allows users to access it on any phone, tablet, PC, or laptop. Its smart search functionality provides users with the ability to search by clinical condition, ICD-10 code, and MDC category. You can even search by acronyms and synonyms to get to the correct clinical condition in a matter of seconds.
Maria Tsigas, Senior Director of Product and Content for HCPro, says, "ACDIS PRO is truly the digital companion for every CDI professional. Our goal was to create an interactive, customizable online tool backed by the expert guidance from ACDIS's CDI Education Director, Laurie Prescott, RN, MSN, CCDS, CDIP, CRC, CCDS-O, and a practicing physician steeped in the latest physician documentation terminology, Dr. James Manz, MD, CCDS-O."
Each clinical condition provides a detailed definition, diagnostic criteria and treatment protocols, ICD-10-CM chapter-specific documentation requirements, and more on a single, scrollable page with quick navigation, allowing users to jump to any section. That information is enhanced with more than 100 CDI critical thinking and provider tips, plus additional news, updates, and resources to help CDI professionals stay abreast of the most recent changes. "The ability for us to deploy any necessary updates and changes as they occur in the CDI industry with the ACDIS PRO online tool is a game-changer," says Murphy.
ACDIS PRO includes features to customize the experience to fit your needs, such as the ability to add personalized notes, bookmarks, links between conditions, and shortcuts to help CDI professionals ensure consistency and maximize efficiency. CDI managers and supervisors can even use the online tool to easily communicate and distribute notes to their team(s), alerting them of specific facility policies for certain clinical conditions.
Whether you are at a hospital or an office, meeting with a physician, or working remotely, you can access the latest CDI information and expert guidance with confidence with ACDIS PRO. It will not only increase accuracy and save time but also help protect healthcare organizations from mistakes that can lead to claim denials and even revenue loss.
In this introductory year, ACDIS PRO is included with the 2021 ACDIS Pocket Guide! For more information and to view a demo of the online tool, visit https://hcmarketplace.com/2021-acdis-pocket-guide.
About HCPro
HCPro provides the latest healthcare regulatory and compliance updates through industry-leading publications, continuing education, online coding platforms, instructor-led training, and consulting services. We focus on providing specialized solutions for every stage of the revenue cycle at healthcare facilities, including clinical documentation, coding, compliance, reimbursement, billing, denials, and more. Visit http://www.hcpro.com/.
About ACDIS
The Association of Clinical Documentation Integrity Specialists (ACDIS) is the nation's only association dedicated to the CDI profession. As the premier healthcare community of CDI professionals, ACDIS shares the latest tips, tools, and strategies to implement successful CDI programs. ACDIS also provides continuing education, certifications, training, networking events, CDI resources, and opportunities for professional growth. Learn more at https://acdis.org/.