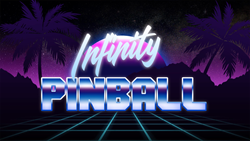 Test your skills with this blast-from-the-past 16-bit style Infinity Pinball Machine Pocket Game !
TOKYO (PRWEB) January 23, 2021
Infinity Pinball launches with 5 unique procedurally-generated endless pinball tables. Each infinite pinball table has its own original design theme, soundtrack and unique bash toys! Served up in a nostalgic retro-style, these infinitely long pinball tables live inside a virtual Pocket Game.
Collect coins to earn unique balls, unlock new playfields, and run up and down the endless fields to enjoy the game to your heart's content.
Get the ball into the side pockets to change the bash toy and unlock a bonus stage where even more coins can be won!
Players get 3 lives (hearts) per game, and the point is to play as far up the endless pinball table while paying attention to the remaining life!
Features

5 Different Infinite Pinball Tables each with unique soundtracks, designs and bash toys.
9 Unique balls to collect
11 Skins for your Pocket Game
Super cool synthwave soundtrack
Available in 11 languages
Infinity Pinball is published by Digital Will, a digital development and marketing company founded in 2018.
--------
Product Information
▼Title
Infinity Pinball
▼Price
Free (Offers in-app purchases)
▼Platforms
Android: https://play.google.com/store/apps/details?id=jp.co.digitalwill.infinitypinball
iOS: https://apps.apple.com/app/id1541098466
▼Website
URL: https://www.infinitypinball.com/
▼Social Media Accounts
Facebook: https://www.facebook.com/InfinityPinball/
Twitter: https://twitter.com/infinitypinball
Instagram: https://www.instagram.com/infinitypinball/
--------
Media Contact:
Will Bohn, Digital Will
E-mail: support@digitalwill.co.jp
About Digital Will Inc. : https://digitalwill.co.jp
Digital Will Inc. is a Development Studio, Marketing Agency and Game Publisher based in Tokyo, Japan focused on delivering Creative Solutions to Digital Challenges.
About Dadako: http://dadako.com/
Dadako is a digital play studio from Tokyo that specializes in retro themed games for modern consoles.