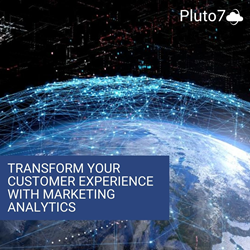 Acquiring this specialization not only demonstrates Pluto7's expertise in the field of marketing analytics, but also points to their continued commitment to providing customers with solutions to business challenges that span across tech stacks and varied levels of technical expertise. - Nina Harding
SAN JOSE, Calif. (PRWEB) January 14, 2021
Pluto7 is a Google Cloud Premier Partner with multiple different specializations for Machine Learning, and Data Analytics. Pluto7 was also awarded Data Specialization Partner of the year 2019 by Google Cloud. Now, with its fourth specialization in Marketing Analytics, Pluto7 has demonstrated its unique focus to go deep into Data Analytics.
Pluto7 is a Smart Analytics services and solutions company focused on accelerating business transformation with tailored solutions in marketing, retail supply chain, manufacturing industries as well as the higher education space. Pluto7 just achieved the Google Cloud Marketing Analytics Specialization. Pluto7 achieved the Marketing Analytics specialization through the combination of business consultancy, unique marketing analytics and machine learning solutions built on Google Cloud.
Today, businesses are looking for practical solutions to real-world challenges. And by that, we do not just mean providing the tech and leaving you, the customer to stitch it all together. Instead, Pluto7's approach is to apply marketing and supply chain innovation to the customer's desired outcome, alongside the experience needed to make it all happen. Pluto7's solutions are designed to create an interconnected tech stack and to champion data empowerment through machine learning and artificial intelligence.
Pluto7's services and AI solutions allow businesses to speed up and scale-out sophisticated machine learning models. They have successfully guided many businesses through the digital transformation process by leveraging the power of Google Cloud.
"We are pleased that Pluto7 has achieved the Google Cloud Marketing Analytics Specialization," said Nina Harding, Chief of Global Partner Programs & Strategy at Google Cloud. "Acquiring this specialization not only demonstrates Pluto7's expertise in the field of marketing analytics, but also points to their continued commitment to providing customers with solutions to business challenges that span across tech stacks and varied levels of technical expertise."
What does it mean for a partner to be specialized?
When you see a Google Cloud partner with a Specialization, it indicates the Partner's proficiency and experience with Google Cloud. Pluto7 is recognized by Google Cloud as a Marketing Analytics specialist with deep technical capabilities. The organizations that receive this distinction, demonstrates their ability to lead a customer through the entire AI journey. Pluto7 designs, builds, migrates, tests, and operates industry-specific solutions for their customers.
Pluto7 has a plethora of previous experience in deploying accelerated solutions and custom applications in marketing analytics, machine learning, and AI. The many proven success stories from industry leaders like ABinBev, Levi's Strauss, Cisco, DxTerity, L-Nutra, TVS, CDD, USC, UNM are publically available on Pluto7's website -- These customers have leveraged Pluto7 and Google Cloud technology to see tangible and transformative results.
On top of all this, Pluto7's business plan and growth strategy aligns with the Specialization. Because of their design, build, and implementation methodologies Pluto7 is able to successfully drive innovation, accelerate business transformation, and boost human creativity.
ML Services and Solutions
Pluto7 has created GCP Marketplace solutions for Industry-specific use cases for marketing, sales, and supply chain – and integrated these to deliver a game-changing customer experience and supply chain resilience. These capabilities are brought to life through its partnership with Google Cloud.
If you would like to begin your AI journey, Pluto7 recommends starting with a discovery workshop. This workshop is co-driven by Pluto7 and Google Cloud to understand business pain points and set up a strategy to begin solving. Visit the website at http://www.pluto7.com and contact us to get started today!
Contact information:
Zeeshan Aga
VP Marketing
marketing@pluto7.com
*Dateline: Domestic US