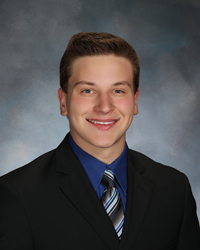 ADHD...doesn't mean I can't have a huge impact on the world
NORWALK, Conn. (PRWEB) November 11, 2020
Smart Kids with Learning Disabilities (SKLD) is pleased to announce that nominations are being accepted for the 2021 Fred J. Epstein Youth Achievement Award. This $1,000 award recognizes the strengths and accomplishments of young people with learning disabilities (LD) and ADHD. It will be given to a student 19 years old or younger who has demonstrated initiative, talent, and determination resulting in a notable accomplishment in any field including art, music, science, math, athletics, or community service. Honorable Mentions will also be awarded.
In June 2012, the Award was named in honor of the late Dr. Fred Epstein, the pioneering pediatric neurosurgeon who credited his significant learning disabilities as a major factor in his success. He played an important role in talking openly with children about his own struggles and ultimate success, becoming an inspiration to children with LD.
The winner of the 2020 Award is Zachary Rice of Long Valley, NJ. Zachary initiated the Action for Distraction 5K to raise funds to provide gaming systems and other comforts for kids at the Goryeb Children's Hospital. Since 2013, the event has raised over $160,000. "Having ADHD means you have to work harder," says Zachary, "but it doesn't mean I can't have a huge impact on the world."
Applications may be submitted by parents, teachers, coaches, mentors or students themselves. Applications may be downloaded from the SKLD website. Please submit the application and documentation by the contest deadline of January 31, 2021 through the Dropbox detailed in the application (preferred method) or to Smart Kids with Learning Disabilities, 161 East Ave. Suite 104, Norwalk, CT 06851.
For more information, contact us via email at YAA@SmartKidswithLD.org.
About Smart Kids with Learning Disabilities, Inc.
Smart Kids with Learning Disabilities, Inc. is a nonprofit organization dedicated to helping children with learning and attention differences reach their full potential by inspiring, educating and empowering parents to help their children succeed. Former Connecticut Governor Dannel Malloy, Anne Ford, and The Southport School Head Dr. Benjamin N. Powers are Honorary Board members. Henry Winkler, Golden Globe award-winning actor, director and author, serves as the organization's Honorary Chairman.
For more information, visit http://www.SmartKidswithLD.org.