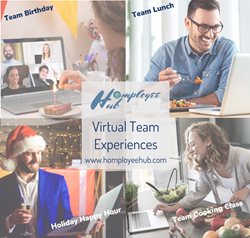 "Our mission is to create a platform so that team engagement doesn't stop at the office door." -Sara Weber
MINNEAPOLIS (PRWEB) October 14, 2020
HomployeeHub, the remote work platform that keeps teams connected, is excited to announce its launch today. With nearly 2/3 of the workforce working remotely, HomployeeHub offers services and gift bundles to re-engage employees and foster relationship building, all while giving back to the creative community.
As Zoom Fatigue continues to grow, HomployeeHub's virtual experiences leave teams inspired and connected. Virtual offerings include team lunches and happy hours, hosted by professional comedians, musicians, artists, wellness experts, team building leaders, and more. In addition, HomployeeHub offers gift bundles to show Homployee appreciation, from office essentials and kid's activities to wellness packages and productivity solutions. Gift cards are also available for purchase.
"As a Homployee myself, I recognize that people are working longer hours with less team connection," says HomployeeHub Founder Sara Weber. "Our mission is to create a platform so that team engagement doesn't stop at the office door. Through hosted virtual events and team appreciation gifts, we're fostering a sense of collaboration and inspiration amongst remote teams. We are incredibly excited to help Homployees love where they work, to provide a stage for the creative community, and to prioritize local restaurants so they can continue serving their communities."
While connection and engagement are at the core of HomployeeHub's values, giving back is also a driving force behind the company. HomployeeHub recognizes that both the creative arts community and the restaurant/bar industry have experienced remarkable job losses. Through hosted virtual team events, local restaurants, chefs, bartenders, comedians, and artists are provided an opportunity to do what they love. A portion of proceeds from all event and bundle sales will also go to Save the Music Foundation, which focuses on changing the lives of millions of children, schools, and communities through the power of music.
"With the closure of theatres and comedy clubs, the creative industry has been hit particularly hard this year," says comedian and HomployeeHub virtual host David Harris. "HomployeeHub provides a much-needed stage for creative professionals to continue performing, and I love that we're giving back to the Save the Music Foundation while also honing our own craft."
HomployeeHub handles all the event details from taking lunch orders and covering deliveries through ensuring that each company has the perfect creative host for their activity. With the holidays approaching, they also have holiday-themed events and gifts that can be customized for companies of any size with impeccable customer service that gives back the gift of time.
For more information, please visit http://www.HomployeeHub.com and follow along on social at Facebook.com/HomployeeHub and LinkedIn.com/company/HomployeeHub.