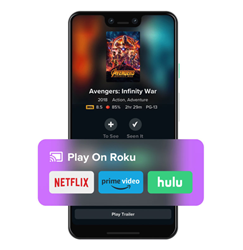 "With the launch of their new product innovation, Reelgood's access to Roku's 37 million connected TV households, representing about 45% of total US connected homes, should help drive faster adoption of Reelgood's service going forward," says Laura Martin, senior analyst at Needham & Company
SAN FRANCISCO (PRWEB) April 21, 2020
At Reelgood, it's our passion-driven mission to connect people to the shows and movies they love, as easily and effortlessly as possible.
That's no easy task, considering the average US household spends 36 minutes/night flipping between their various video streaming services (Pew Research) and uses 6.9 different streaming services on average (TiVo Video Trends Report Q4 2019).
Our Webby Award-winning streaming guide takes the chore of finding something to watch—as well as figuring out where to watch it—down to two minutes on average. And once you know what to watch and where to watch it, there's the last step of making it play on the TV usually ten feet away from you.
That's why, for us, this new feature feels like a giant leap forward. It bridges the gap between the TV on the wall and the streaming guide in the palm of your hand.
Today, we're officially announcing the Reelgood Remote for Roku. (Watch: https://youtu.be/J9sE27ObjO0) It's free and available on Android and iOS Testflight. https://reelgood.com/about/reelgood-remote
Pick anything to watch from the Reelgood guide on your phone, tap the selection to play directly to your Roku, and it appears automatically on your TV. It's that simple. And you can use the app as a remote while you watch.
Early reviews are in: "[U]sing Reelgood's remote app might be even better than navigating with an actual remote," writes Jared Newman in Cord Cutter Weekly, and "The Reelgood App Is Better For Roku, Than Roku's Own App", declares Alexander Maxham in Android Headlines.
STREAMLINING THE STREAMING EXPERIENCE
We're thrilled to launch this new feature which feels very timely, given the increased demand from our users who are stuck at home and streaming more—since the shelter-in-place orders began, we've seen a 130% uptick in viewing, 252% increase in account creations, and 69% increase in daily active users.
"With the launch of their new product innovation, Reelgood's access to Roku's 37 million connected TV households, representing about 45% of total US connected homes, should help drive faster adoption of Reelgood's service going forward," says Laura Martin, senior analyst at Needham & Company
This new feature is part of our mission to streamline the streaming experience. Earlier this year, Dell announced a strategic partnership that distributes a custom, co-branded version of the Reelgood platform across tens of millions of computers, and we also launched the Reelgood app on millions of LG smart TVs worldwide. The next logical step is working with leading consumer appliances, such as Roku.
"By integrating Reelgood directly with the world's most popular connected TV device for OTT, we unlock a frictionless streaming experience. We're very excited to offer Roku integration to our nearly 4 million monthly active users who are using Reelgood to track, discover, and play their streaming content," said Reelgood CEO David Sanderson.
Building upon our growing success and following last month's prestigious recognition as one of FastCompany's Most Innovative Companies in 2020 (https://blog.reelgood.com/reelgood-named-to-fast-companys-annual-list-of-the-worlds-most-innovative-companies-for-2020), Reelgood is well poised to continue the momentum as a category leader.
"We look forward to integrating more services and device partnerships as Reelgood expands its reach as a platform for streaming," says Dietrich von Behren, Reelgood's Chief Business Officer. "With an abundance of choices and demand for streaming content continuing unabated, the fragmented marketplace of OTT services makes it necessary to simplify the consumer experience with an intelligent universal guide."
---
The Reelgood Remote — How to play a movie or TV show to your Roku
HOW IT WORKS: Using Reelgood's streaming guide, find any TV show or movie to watch. When the Reelgood app and your Roku device are on the same wifi network, you'll see the option to "Play On Roku." Simply tap your selection and it'll play. And if your TV is off, Reelgood will turn it on and play the content straight to Roku. Learn more: https://reelgood.com/about/reelgood-remote
Compatible Devices
Reelgood Remote is compatible with all Roku devices, streaming sticks, and TVs.
Troubleshooting Help
Having trouble? Check out our troubleshooting FAQ for Reelgood Remote here: https://reelgood.com/faq/remote
DOWNLOAD THE APP
Reelgood Remote is available within the latest version of Reelgood, available free to download on both Android and iOS Testflight.
Let us know what you think! As always, we're listening: feedback@reelgood.com
# # #
About Reelgood
Reelgood (http://www.reelgood.com) makes it easy to spend less time searching and more time watching your favorite movies and shows. Reelgood is available on web, iOS, and Android, as well as select LG TVs.
Follow us on:
Twitter - https://twitter.com/reelgoodapp
Facebook - https://www.facebook.com/Reelgood
Instagram - https://www.instagram.com/reelgood
Linkedin - https://www.linkedin.com/company/reelgood-llc
For press inquires, please contact:
Catharine Burhenne
catharine@reelgood.com