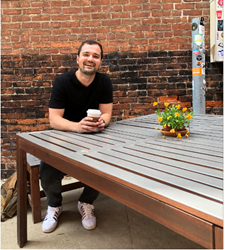 All e-commerce businesses benefit when Surge drives right-fit leads directly to their websites.
COLUMBUS, Ohio (PRWEB) September 30, 2020
Hopes are high and dreams are big when an e-commerce business becomes a seller on Amazon®. The trouble is, for many sellers, their high is short-lived, and they realize there are common pitfalls to selling on Amazon. Before too long, sellers are floating on a river, in the jungle, searching for their way to retail civilization.
It took an Amazon-loving entrepreneur, one who is also obsessed with growing small businesses, to rescue these frustrated Amazon sellers. In 2019, Evan Ryan founded Yavay and launched SURGE | Traffic Builder to navigate the sellers' jungle. "I am an avid user of Amazon Prime services. Some companies are just not set up to be Amazon sellers, for many reasons. Their product may not be suitable, or the processes seem like too much red tape. These companies can be more profitable, and enjoy more freedom, by selling products and services direct from their own website."
During Yavay's quiet launch of SURGE, millions of right-fit leads are driven directly to e-commerce websites, where sales occur and relationships are built, all without Amazon's help. "All e-commerce businesses benefit from driving right-fit leads directly to their website," Ryan explained.
Many SURGE clients are Amazon sellers who were struggling to succeed on that retail platform. "Any e-commerce business benefits from SURGE, because it matches their website with people interested in what they are selling. It crosses industries and drives leads, even in service industries." Yavay's list includes consumer products like mouthguards and sleep aids, digital services, wedding and event planning, home improvement, advertising and more. "There is no limit," Ryan said.
The challenge is always matching the right buyer with the right seller. "SURGE can be viewed simply: it takes an individual from aimlessly floating down the Amazon River to where they are navigating toward everything they want to see and experience. SURGE is an accessible way to drive those customers who share the same interests and values of the businesses to their websites using the popular search engine, Pinterest®.
As reported in Forbes.com, Pinterest's user base is soaring, with its monthly active users rising 39% to 416 million over Q2 2020. It is no secret that the COVID-19 pandemic pushed more people online, and this trend will continue through the holidays. "All users of Pinterest® are looking for inspiration, and we match them with the inspired," Ryan stated. "Pinterest-based advertising and engagement are key to the success of small businesses of all kinds, and SURGE connects right-fit buyers with sellers, using Pinterest."
When marketing e-commerce businesses, social media is often used, and some use Pinterest. They are not the same. "While there is a social aspect to Pinterest, it is actually a powerful search engine, like Google® or Bing®. Users click right through to an e-commerce website, leading to sales," Ryan explained. "Learning all the various social media platforms, and managing communications and ads on them, is costly, time-consuming, and ineffective. We set out to drive leads, not just followers. SURGE finds buyers and drives them to the business's website."
With YAVAY's SURGE, it looks like e-commerce can be a walk in the park, instead of a trudge through the jungle.
About YAVAY
YAVAY connects e-commerce businesses with their right-fit customers on Pinterest and beyond. SURGE | Traffic Builder is the accessible, high value driver of millions of new visitors to websites each month using Pinterest®. Learn more and connect with YAVAY on the web here.