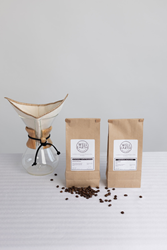 All Well Earth Goods products are packed in 100% recyclable paper based materials including recycled paper tape, recycled labels, recycled mailer envelopes and recycled paper for cushioning. No plastic is ever used, and the smallest boxes or envelopes possible are used to reduce materials.
MEDFORD, Ore. (PRWEB) March 30, 2021
Buying coffee from the grocery store usually means buying beans in a plastic bag or plastic container, not to mention hardly ever knowing how it is processed. Completely plastic-free coffee is something new to the coffee industry and Well Earth Goods is proud to offer two different Organic plastic-free roasts.
Their coffee is produced plastic-free from start to finish. There is no plastic involved in the shipping or roasting of the coffee, and it comes to your door in a recyclable paper coffee bag. Packaging is also completely plastic-free. The coffee is custom roasted, meaning, small-batch roasted the day it is ordered so that when it's received, it comes at its peak freshness. Once the coffee order is received, Well Earth Goods recommends transferring it from the bag into an airtight container like a canning jar or a bottle in order to keep your beans fresh.
They offer two different types of beans; a medium-dark organic roast called "Downhill, With Tailwind" which is a blend of beans with rich balanced exotic flavor, smooth medium body, sweet citric tart, vibrant acidity, brown sugar, and chocolate notes. This roast is formulated for espresso or milk drinks, like lattes or just as a plain drip coffee. Additionally, they offer an organic Ethiopian light roast called "Saturday, No Plans." This roast has notes of raspberry jam, plum, tropical, spice.
Clean and complex, juicy acidity with a clean finish. This one is slightly sweeter and overall, a well-balanced light blend excellent for drinking black, or with light milk.
Both roasts are sold on the website, WellEarthGoods.com in two different sizes; a 6-ounce sample size as well as a full size 12-ounce bag.
Well Earth Goods is a family run small business. They want to share their passion with others by providing quality products that support a minimalist, waste-free lifestyle and help keep the earth well.