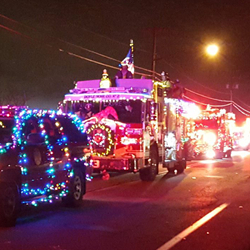 LANCASTER, N.Y. (PRWEB) July 25, 2018
The Greater Lancaster Museum of Firefighting, located on W. Main Street, has announced the date of the 2018 Christmasville Fire Truck Parade. The event is extremely popular, showcasing more than 100 decorated fire trucks and drawing large crowds.
The Museum of Firefighting, located within the headquarters of Performance Advantage Company, organizes and manages the parade each year. Tom Trzepacz (Chief Bowmasville FD) and Jerry Enser (Past Chief Lancaster FD), both PAC employees, have been the brains and force behind this wonderful community attraction. Now in its 11th year, the parade has grown and now draws huge crowds all along the route. Last year, more than 180 trucks from four counties participated!
The parade is scheduled to begin at 6 p.m. Saturday, Nov. 24 at Lancaster High School. It will proceed down Central Avenue and finish in the downtown Village of Lancaster. The parade is a free, family-friendly event.
PAC is proud to have Jerry and Tom give something so fun and special to the community! Great job, guys!
For more information, follow the Greater Lancaster Museum of Firefighting on Facebook.