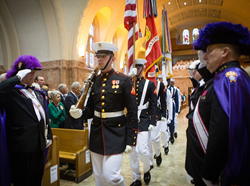 "So many servicemen and women have attended the Pilgrimage over the years. They join their family and friends in prayer to thank Saint Elizabeth Ann Seton for her protection." - Rob Judge, Executive Director of the Seton Shrine
FREDERICK, Md. (PRWEB) July 31, 2018
All are welcome to the Annual Pilgrimage for the Sea Services at the Seton Shrine on Sunday, October 7, in Emmitsburg, Maryland. Saint Elizabeth Ann Seton is the Patroness of the Sea Services, which includes the U.S. Navy, Marine Corps, Coast Guard, Merchant Marine and Public Health Service. The late Cardinal John J. Connor, when serving as the Navy Chief of Chaplains, advocated for her designation as the Patroness of the Sea Services in 1977. The 3:00PM Mass will be celebrated by Father Francis P. Foley, CAPT, CHC, USN and Command Chaplain of the Unites States Naval Academy.
"The United States Naval Academy (USNA) has had a long-standing connection with the Pilgrimage," said retired Admiral William J. Fallon, Chair of the Pilgrimage Sponsoring Committee. "For many years, the USNA Catholic Choir has sung at Mass, led by Monte Maxwell, the Director of Chapel Music and Chapel Organist at USNA. We are delighted to have them back again this year, along with Senior Chaplain CAPT Francis Foley, who leads the Naval Academy Chaplain Center and religious ministry at USNA."
"So many servicemen and women have attended the Pilgrimage over the years," said Rob Judge, Executive Director of the Seton Shrine. "They join their family and friends in prayer to thank Saint Elizabeth Ann Seton for her protection and ask for her continued intercession on their behalf as they serve our country."
The Most Reverend Timothy P. Broglio, J.C.D., Archbishop for the Military Services, USA, also commented on the Sea Services Pilgrimage. "It is a great pleasure to applaud this important initiative at the St. Elizabeth Ann Seton Shrine. Her gift of two sons to the Sea Services is a tribute to her love of our country and her service, already great in her care of the poor and education of young people."
The Pilgrimage Mass, at 3:00PM on October 7, takes place in the Basilica at the Seton Shrine, located at 339 South Seton Avenue, Emmitsburg, MD.
A complimentary dinner will be provided afterward to all in attendance. If you would like to attend, please contact Rob Judge by calling 301-447-6037 or through email at Rob.Judge(at)setonshrine(dot)org.
About Saint Elizabeth Ann Seton
Elizabeth Ann Seton is the first native-born U.S. saint. The National Shrine of Saint Elizabeth Ann Seton promotes her life and legacy to inspire everyone. More than 200 years ago, she came to Emmitsburg as a bankrupt widow with five children, and went on to found the first free Catholic school for girls staffed by sisters in the U.S., and the first community of religious women established in the U.S. Today, her legacy includes several religious communities with thousands of sisters, who serve others through schools, social service centers and hospitals throughout the world. Elizabeth Ann Seton was canonized in 1975. Her remains are entombed at the National Shrine that bears her name.