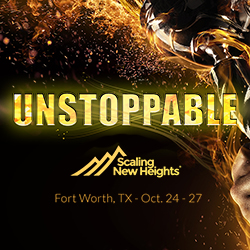 "We empower advisors who support the many small businesses devastated by COVID-19," said Joe Woodard, CEO, Woodard Events. "Holding the event in October allows us to offer our conference experience to the highest possible number of advisors."
ATLANTA (PRWEB) March 09, 2021
Based on current projections around COVID-19, including the timetable for general availability of the COVID-19 vaccines, Woodard Events, LLC (host for the annual Scaling New Heights conference) rescheduled its annual event for bookkeepers and accountants from June 20-23, 2021 to October 24-27, 2021. The venue will remain unchanged. Scaling New Heights will take place at the Fort Worth Convention Center in Fort Worth, Texas.
Though attendance for the June event remained strong, many potential attendees and sponsors expressed concerns about the June timeframe. Woodard Events moved the conference in response to these concerns and to enfranchise the highest possible number of accountants, bookkeepers, and sponsoring companies.
"At Woodard, we empower advisors who support the many small businesses devastated by COVID-19," said Joe Woodard, CEO, Woodard Events. "As we've spoken with these advisors, we found that many of them have continued concerns around the COVID-19 crisis, where some are bound by corporate travel restrictions that extend as late as August 31. Holding the event in October allows us to offer our conference experience to the highest possible number of advisors, and sponsors, who wish to participate in the event."
Scaling New Heights will be held October 24-27, 2021 in Fort Worth, Texas. The theme of the conference is "Unstoppable".
You can learn more about the Scaling New Heights program, including information about attendee registration and sponsorship opportunities at http://www.ScalingNewHeights.com.
About the Annual Scaling New Heights Conference
Scaling New Heights launched in 2009 and has grown over the past decade into one of the world's largest and highest rated accounting technology conferences and expositions. In 2021, the training and presentations around our conference theme, Unstoppable, will equip bookkeepers, accounting technologists, tax preparers, CPAs and other small business advisors to modernize their practices, standardize their processes, deploy highly efficient and scalable business models, develop a distinctive brand, increase technical proficiencies, and effectively price their services. Learn more at http://www.ScalingNewHeights.com.
About Woodard Events, LLC
Woodard Events, LLC provides education, coaching, resources, and professional communities to small business advisors and is the host of programs like the annual Scaling New Heights® conference, Woodard Alliance, Woodard Institute, Woodard Groups, and The Woodard Report. Learn more at http://www.Woodard.com.