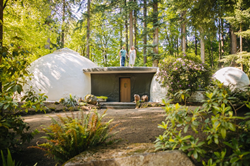 If, like most of us, you are sick of staring at your walls, spend the day with us and stare at some of the most remarkable and creative walls in homes owned by the collectors, artists, painters, architects, garden lovers and more that keep Portland weird.
PORTLAND, Ore. (PRWEB) September 14, 2020
The global pandemic has put a stop to a lot of things we love: casual shopping, dining in at restaurants, crowded opening nights for the summer blockbusters, large parties, and especially – live events! The name of the game for many small businesses in 2020 has been "adapt or close," and the Weird Homes Tour has found a way to adapt and "Keep Portland Weird!"
The 3rd annual Portland Weird Homes Tour will take place on Saturday, September 26, 2020 and will be 100% virtual! This is a one-of-a-kind event that will take attendees on a journey across Portland and into some of the most imaginative, wonderful, and creative homes in the region – but attendees will take the tour from the safety and comfort of home, with the ability to watch or re-watch anything they missed for up to two weeks after the live event.
A curated selection of Portland's weirdest homes will open their doors for the Weird Homes Tour crew who will bring viewers on a live walkthrough of the house. Owners will answer questions (from the hosts and the audience) and share stories about their one-of-a-kind dwelling. The event honors Portland's culture of individuality by showcasing the artists and collectors who preserve and grow the city's uniqueness in the spaces where they live.
Confirmed Portland Weird Homes Tour participants include:

House of Sarcasm – Artist Christine Claringbold and her husband Charles are not afraid of color. Their home's kaleidoscope of vibrant colors and patterns will wow you. Every room has its own uniquely rich color scheme with explosive mandalas and patterns.
Twilight Swan House – In 2008, a low budget movie by the name of Twilight immortalized a quaint little house in the town of Portland. Little did one such fan know that she and her husband would later own this piece of cinematic history. The home is now restored back to its movie self.
Dome Home – Dutch artist, musician, actor, and mime, Francisco Reyners mistrusted right angles, so he chose to build the Dome Home with a series of nine domes linked together by flat roofs. These domes also hold many secrets. Look close enough and you will find Reyners' painted satyrs, secret passageways and other dramatic surprises.
House of Serendipity – To say Larry Cross is passionate about sustainable and accessible design would be an understatement. When he bought his house, he used Universal Design principles to create a home that is not only beautiful but also completely accessible. Larry will inspire you to rethink how you might evolve as you age. Limited mobility doesn't mean limited beauty.
Plastorm – A simple walk through the alley behind artist Robert Fortney's home studio Plastorm, and you'll run into some familiar characters from a galaxy far, far away; a galactic legion of stormtroopers, droids, and Sith lords guard the fence and patrol the backyard. And if you think these guards are just for show you will be dead wrong - they call out to passers-by! Sometimes it's a motion-activated recording, and sometimes it's Fortney on a mic. Come meet the artist and see the home behind many shocked Portlandian stories.
Old Grange Hall – Travel to a small town just outside Portland and into an old schoolhouse that is now home to a one-of-a-kind collection of vintage and thrift store finds. Mannequins, unicorns, skeletons, mirrors, and more cover the walls and windows of this eclectic home.
Portland Puppet Museum – Created by Steven Overton to house his collection of more than 2,000 puppets and to provide a place for people to enjoy this "illusion of life," the small space comes to life through Overton's love of the art and his 50-years of experience designing and curating hand, rod, string and shadow puppets. Step into this neighborhood home and you'll be transported into a brilliant world fueled by imagination and creativity.
Weird Homes Tour founder David Neff gives this advice: "If, like most of us, you are sick of staring at your walls, spend the day with us and stare at some of the most remarkable and creative walls in homes owned by the collectors, artists, painters, architects, garden lovers and more that keep Portland weird."
Here's how it works:
1) Photos of confirmed homes and tickets are available at: https://www.weirdhomestour.com/tour/portland/
2) Ticket buyers will receive an access link ONE HOUR before the event
3) Participation is LIVE - virtual tourgoers are encouraged to ask questions via chat during the segment. Owners will answer them on the spot.
4) Recordings of each home will be available for up to two weeks after the event
Tickets for the 2020 virtual Portland Weird Homes Tour are just $25 per device. A portion of all ticket sales goes directly to Central City Concern and their fight for affordable housing. A $45 deluxe ticket is available for a ticket PLUS a copy of the Weird Home Tour's bestselling coffee-table book: Weird Homes: The People and Places That Keep Austin Strangely Wonderful (US orders only).
Central City Concern (CCC) is a 501(c)(3) nonprofit agency serving single adults and families in the Portland metro area who are impacted by homelessness, poverty, and addictions. Founded in 1979, the agency has developed a comprehensive continuum of affordable housing options integrated with direct social services including healthcare, recovery, and employment. The Weird Homes Tour supports CCC's mission and will donate a portion of all proceeds to the organization. Learn more at https://www.centralcityconcern.org/.
ABOUT WEIRD HOMES TOUR: We are a social impact start-up, created by a team of event veterans that takes care of our people, our planet and makes a profit. We were founded in 2014 by Chelle and David J. Neff and held our first tour in Austin that same year. We take our profits and put them back into our communities by investing in smart, well-run nonprofits and other social impact businesses. After our first successful tours in Austin, we brought the Weird Homes Tour to Houston in 2016 and have now expanded nationwide. We promise to value what makes our event cities great. We exist to share the story of past, present, and future culture, as well as preserving and protecting what's unique in each great city. For more information, visit http://www.weirdhomestour.com.