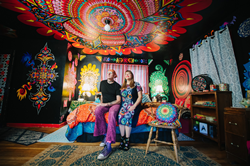 Are you (or do you know) a homeowner who has an extraordinarily unique home that is helping to keep Portland Weird?? Tell us about it!
PORTLAND, Ore. (PRWEB) March 12, 2020
Weird Homes Tour excitedly announces its return to Portland for the third annual event on Saturday, June 27, 2020, from 10 a.m. to 5 p.m. This one-of-a-kind home tour takes attendees on a journey across the city and into some of the most imaginative, wonderful, and creative homes. The event honors Portland's culture of individuality by showcasing the artists and collectors who preserve and grow this uniqueness in the spaces they live.
Portland's weirdest homes will open their doors, and owners will answer questions and share their stories about their one-of-a-kind dwelling. Portlandians are welcome to visit the curated selection of homes on a self-paced, self-guided tour that brings visitors inside some of the area's most remarkable and creative houses owned by collectors, artists, painters, architects, garden lovers and more.
Recruitment for the 3rd annual Portland Weird Homes Tour is underway! Are you (or do you know) a homeowner who has an extraordinarily unique home that is helping to keep Portland Weird?? Tell us about it! Submissions are accepted here: http://www.weirdhomestour.com.
Participating homeowners receive:

Professional photos of their home to use for their own purposes
Mention in local and regional press, as well as mention of associated business
Social Media and website inclusion leading up to and during the event
The ability to sell any products at your home on the day of the tour
Two pairs of tickets to the Weird Homes Tour for friends and family
*Receive a FREE pair of tickets when you refer a home that participates in the 2020 Portland Weird Homes Tour!*
Central City Concern (CCC) is a 501(c)(3) nonprofit agency serving single adults and families in the Portland metro area who are impacted by homelessness, poverty and addictions. Founded in 1979, the agency has developed a comprehensive continuum of affordable housing options integrated with direct social services including healthcare, recovery and employment. The Weird Homes Tour supports CCC's mission and will donate a portion of all proceeds to the organization. Learn more at https://www.centralcityconcern.org/.
NOTE ON HEALTH AND SAFETY: The Weird Homes Tour is keeping participant and public health and safety a top priority. General rules of touring will be distributed prior to the event, and organizers ask all visitors to exercise care, caution, and common sense when touring the homes.
ABOUT WEIRD HOMES TOUR: We are a social impact start-up, created by a team of event veterans that takes care of our people, our planet and makes a profit. We were founded in 2014 by Chelle and David J. Neff and held our first tour in Austin that same year. We take our profits and put them back into our communities by investing in smart, well-run nonprofits and other social impact businesses. After our first successful tours in Austin, we brought the Weird Homes Tour to Houston in 2016 and have now expanded nationwide. We promise to value what makes our event cities great. We exist to share the story of past, present, and future culture, as well as preserving and protecting what's unique in each great city. For more information, visit http://www.weirdhomestour.com.