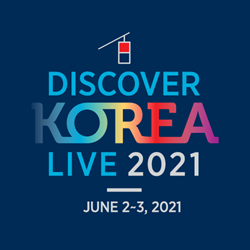 Enjoy K-POP, Korean food, Korean movies, and all that Korean culture offers.We hope you enjoy the 2 day online festive show we've prepared for you andwe look forward to welcoming you to Korea.
NEW YORK (PRWEB) May 28, 2021
The Korea Tourism Organization's New York Office will be hosting "Discover Korea Live 2021", an online virtual Korean cultural festival, from June 2nd to 3rd (U.S Eastern Time). This event provides an opportunity to experience Korean culture from the comfort of your home. After a successful inaugural launch last year, a more diverse collection of programs ranging from K-POP to K-Beauty, and K-Food to K-Movies will be broadcasted live on the Korea Tourism Organization's official DiscoverKoreaLive.com page and on YouTube.
The Discover Korea Live K-Tour program will offer participants a chance to visit and learn about South Korea's four most popular regions: Seoul, Busan, Jeju Island, and Jeonju. Foodie lovers can explore K-Food, highlighting Korean temple food, street food, and a visit to Hallyu's star-recommended restaurants. Darley Newman, creator and host of the Emmy Award-winning "Equitrekking," and "Travels with Darley" and Andrew Evans, former host of the National Geographic Channel will share unique Korea experiences. Featuring K-Beauty, viewers will learn about the best Korean beauty products and the K-Drama and K-movie programs, will showcase favorite Korean Netflix shows and blockbusters, by renowned critics and favorite youtubers.
The spotlight of this year's event for K-POP fans are "Oh My Girl" and "On & Off" fan meetings. The fan meetings will last two days, and world-renowned billboard columnist, Jeff Benjamin will be the interviewer. "Oh My Girl" will perform their hit songs, "Dolphin" and their comeback "Dun Dun Dance", while ONF will perform their most popular "Beautiful" and their comeback "Ugly Dance" live.
We welcome you to join us! For more details, please visit http://www.discoverkorealive.com.