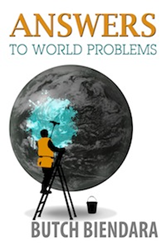 Biendara tackles the toughest problems [offering] conventional solutions, as well as creative, non-traditional options that support restoring balance and changing the entrenched systems that contribute to the downward spiral.
San Diego, CA (PRWEB) March 13, 2014
Across the globe, countries face a variety of complex problems that can no longer be ignored. Climate change, abject poverty, and vanishing non-sustainable energy sources are just a few of the issues that need to be addressed worldwide. In his new book, 'Answers to World Problems', Butch Biendara tackles the toughest problems facing most of the people in the world today. The topics addressed include global warming, high-speed transit, world poverty, stabilizing coastlines, public assistance programs, sustainable energy options, economic democracy, and even the high cost of the growing obesity epidemic. Biendara offers conventional solutions, as well as creative, non-traditional options that support restoring balance and changing the entrenched systems that contribute to the downward spiral.
Biendara covers each topic in short and easy-to-read summaries. Each chapter defines a specific problem, its effects on society (with a focus on the economic impact), and then offers solutions. While most answers are not simple, Biendara presents his well-informed ideas in a matter-of-fact manner, with plenty of background, supporting research, and arguments for the potential efficacy of his proposed solutions.
Problems like poverty, public assistance and global warming are multi-layered. In some cases, Biendara explains, these problems could be addressed in many small local trials that develop test patterns and then expand to include other cities and states. "All problems have answers when you break them into smaller parts," says Beindara. "You have to try new ideas and try new ways of putting those ideas together, without clinging to old rules from the past."
In his personal life, Biendara has lived through some of the issues he covers in 'Answers to World Problems'. In his professional life, he often witnessed how the best of intentions can go awry. He was trained under the curse of working to support the programs and policies of eight governors and nine presidents, which moved him past short-sighted easy fixes—to think beyond the next election—and see the bigger picture with insights and ideas that are not necessarily politically correct. "Too often 'political correctness' warps common sense, and political spin and partisan pressure can doom otherwise good ideas to failure," says Biendara.
A common thread in Biendara's new book is that major special interests (often the same people who are making and influencing decisions that impact everyone) have narrow views that mostly benefit just the wealthy and privileged few. The author exposes the problems created by this dynamic, and emphasizes the importance of awareness as a starting point for thinking about change. "As the ancient proverb goes, even the journey of a thousand miles begins with a first step," says Biendara. "In these cases, part of the solution is to stop going in the wrong direction."
'Answers to World Problems' is published in eBook format by eBookIt.com and is now available at popular online retailers including Amazon.com, Barnesandnoble.com and Apple's iBookstore.
Review copies of 'Answers to World Problems' are available to media contacts upon request. Author Butch Biendara is available for interviews.
Butch Biendara
858-279-5054
EagleAyerie(at)hotmail(dot)com
About Butch Biendara
Butch Biendara was born in poverty to a large family on welfare and he lived without plumbing and electricity until he was nine. His first three years of school were in a one-room school (also without plumbing and electricity) with fifteen children for grades one through eight. Welfare moved them off the farm to a home in the city where the work ethic he learned on the farm helped him earn money mowing lawns, shoveling snow and delivering papers.
Moving to California after high school graduation, Biendara started working in state government, beginning a productive career that lasted for forty years. His career gave him broad experience in many fields and areas of the state, dealing with some answers to problems that keep growing as the population expands.
On retiring, with the free time to reflect on issues that need answers, he spent a few years researching and developing solutions for some of the major problems facing us today.
He and his wife of fifty years raised two children now well established in their successful careers with Masters Degrees.
About eBookIt.com
Since 2010, eBookIt.com (based in Sudbury, Massachusetts) has helped thousands of authors and publishers get their books converted to ebook format, and distributed to all the major ebook retailers, including Amazon.com, Barnesandnoble.com, Apple iBookstore, Kobo, Sony Readerstore, Ingram Digital, and Google eBookstore.
###